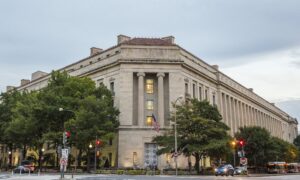 The Justice Department confirmed on Wednesday that Channing Phillips will return to his previous post and lead the U.S. Attorney Office for the District of Columbia in an acting capacity.
A department spokesperson told The Epoch Times in an email that the current top prosecutor for the office, Michael Sherwin, will leave his post this week but will remain in Washington for a brief period, at the request of the department, to allow for a smooth transition with the oversight of the Jan. 6 breach of the U.S. Capitol prosecutions.
Sherwin's office has been leading the investigation into the violence and has charged over 330 cases within a seven-week period, he said in a memo obtained by media outlets. After the transition is completed, Sherwin is expected to rejoin the U.S. Attorney's Office for the Southern District of Florida in Miami, the spokesperson said.
Phillips previously served as the top prosecutor for the U.S. Attorney Office for the District of Columbia under the Obama administration and remained in that position until September 2017.
He has previously worked in the department in different capacities including Senior Counselor to the Attorney General, Deputy Associate Attorney General, and as a trial attorney in the DOJ criminal division's organized crime and racketeering section. He also clerked for Judge Shellie F. Bowers from the Superior Court of the District of Columbia.
Phillips, who is expected to start his new post on Wednesday, will be returning at a time when the U.S. Attorney's Office is under intense scrutiny for its role in investigating and prosecuting individuals who committed acts of violence on Jan. 6.
FBI Director Christopher Wray on Tuesday characterized that breach as "domestic terrorism" during a Senate panel hearing.
"It's got no place in our democracy and tolerating it would make a mockery of our nation's rule of law," Wray told senators. "That siege was criminal behavior plain and simple and it's behavior that we—the FBI—views as domestic terrorism."
He also told lawmakers that the bureau did not have credible threat reports of a pre-planned attack at the time, but the acting chief of the Capitol Police said that a Jan. 5 report from the FBI was handed to investigators in the police force and to the agency's intelligence unit but wasn't sent up the chain of command.
Zachary Stieber contributed to this report.