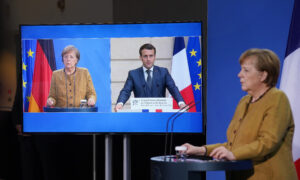 WASHINGTON—President Joe Biden has promised that he would elevate diplomacy and seek a more coordinated approach with U.S. allies to address trade challenges posed by China.
His strategy to unite friendly nations to pressure Beijing, however, faces a rift as partners like Germany and France have already signaled that they are not on the same page with Biden.
French President Emmanuel Macron last week pushed against the idea of building a bloc against China, calling it "counterproductive."
"This is a scenario of the highest possible conflictuality," Macron said on Feb. 4 during an interview with the think tank Atlantic Council.
"This one, for me, is counterproductive because it will push China to increase its regional strategy," he said, adding that it would also discourage Beijing from cooperating on global issues such as climate change.
Macron's comments came after German Chancellor Angela Merkel refused to side with the United States to contain China.
"I would very much wish to avoid the building of blocs," Merkel told the Davos World Economic Forum on Jan. 26. "I don't think it would do justice to many societies if we were to say this is the United States and over there is China and we are grouping around either the one or the other. This is not my understanding of how things ought to be."
Working with allies is the cornerstone of the Biden administration's policy toward China in resolving a wide range of thorny issues from trade to human rights and Hong Kong.
Human rights advocates in Germany have been pushing Merkel's government to take a more hardline approach to the Chinese regime regarding Hong Kong and Xinjiang, but economic interests have stood in the way, according to critics.
Philip Stephens, a Financial Times columnist, does not characterize Germany as a reliable U.S. partner due to the country's business interests in China and Russia.
"Berlin cannot be expected to choose between human rights and the overseas sales of, say, Volkswagen, BMW or Mercedes," he wrote in his recent op-ed.
Merkel gave a strong push to conclude the EU-China business investment deal on Dec. 30, a few weeks before Biden took office.
The comprehensive deal, which was seven years in the making, allows greater market access to European investors. Beijing has also agreed to ensure fair treatment of EU companies and address forced labor issues as part of the deal. The agreement drew criticism from the Biden team, who had called for "early consultations" with the new administration.
It's unclear how the White House will work with America's allies to manage the China challenge.
Clete Willems, former key trade negotiator and deputy director of the National Economic Council under the Trump administration supports Biden's strategy to work together with allies. However, he also recognizes Europe's business ties with China as a big obstacle.
"If that strategy is going to be successful, it's really going to take more ambition out of Europe," he told the Epoch Times.
He said that the EU should be more determined to fight for market-oriented trade policies despite pressures from businesses and the Chinese regime.
White House press secretary Jen Psaki on Feb. 5 avoided answering a question from the press when asked if the Biden administration can rely on Europe, following Macron's comments.
"This administration sees the United States as engaged in strategic competition with China, and technology is a central domain of that competition," she responded.
She said that the Biden administration would not allow Beijing to undercut America's leadership in technology and research.
"That's certainly what the President conveys in his conversations with our partners and allies," she said.
Psaki also said on Feb. 11 that the administration is "not in a rush" and is "taking a strategic approach" to deal with China.
Her comments came after Biden, on Feb. 10 held his first phone call with Chinese leader Xi Jinping since taking office. During the call, which lasted two hours, Biden expressed "his fundamental concerns about Beijing's coercive and unfair economic practices, crackdown in Hong Kong, human rights abuses in Xinjiang, and increasingly assertive actions in the region, including toward Taiwan."