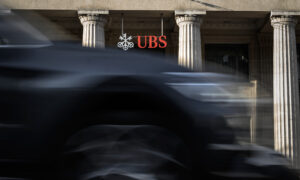 UBS bank has been brought to court several times over tax fraud in Europe and the United States. The lawsuits revealed that the bank's allies include top US political figures.
Stephanie Gibaud organized events for UBS Bank's wealthiest clients. She was at the core of the networking strategy of the company.
In 2012, she left the bank as a whistleblower.
Her testimony played a major role last year when France convicted UBS for organizing tax fraud for its clients and fined the company a historic $4.5 billion.
France's own treasury minister took part in UBS's tax fraud scheme.
In 2014, Gibaud asked to be heard by the American justice system in reference to the trial of Mr. Raoul Weil.
Weil was number three at UBS in Switzerland and a Managing Director of UBS Wealth Management.
He was suspected to have organized the tax evasion of more than 20,000 American citizens for an amount reaching $20 billion in 2008.
Weil was also a friend of Senator Robert Wolf, former Chairman and CEO of UBS Americas. Wolf is a close friend to former President Obama.
Another famous name and UBS ally that may surprise you is Clinton.
Hillary Clinton was Secretary of State in 2009. She helped UBS settle their tax fraud case with the IRS that year.
The IRS asked the Swiss bank to disclose 52,000 names of possible American tax evaders. After the settlement, UBS provided less than 5,000.
In 2015, the Wall Street Journal and the New York Post revealed deeper links between the Clinton Foundation and UBS.
The Wall Street Journal wrote that donations made by UBS to the Clinton Foundation significantly increased after Hillary Clinton helped settle the tax evasion lawsuit.
UBS Wealth Management also paid Bill Clinton for appearances. The amount totaled over one and a half million dollars, making the bank Bill Clinton's largest corporate source of speech income since he left the White House.
According to Gibaud, there's a small world unto itself among UBS bank and its wealthiest clients, including Chinese officials and top politicians.
Gibaud also said that despite her attempts, neither the media nor the Department of Justice has used her testimony to investigate UBS's wealthiest clients in the United States.
From NTD News