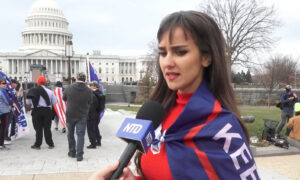 WASHINGTON—Kristina Malimon from Portland, Oregon, says she speaks to people from all over the country and they seem to have lost hope. But that's only because the majority of media are not reporting the full truth, Malimon said at a protest at the nation's Capitol on Dec. 12, 2020.
"It's sad to see where everyone else is standing. They like to deliver not the truth. And American people and people all over the world need the truth," she said. "It's very painful to see that, that a lot of the mainstream media, most, almost all now, are not for the American people and they don't care to  deliver the truth, they deliver fake news. And a lot of people are watching and they're hurt, and a lot of people don't know the truth. I speak to a lot of people across the United States and some people have lost hope and I tell them no we have hope, We won the election and we will have big victory soon."
Thousands gathered to join marches and rallies in Washington on Dec. 12, 2020, petitioning the government for fair elections and transparent counting. Similar grassroots protests took place every Saturday since the general election in capitals across the 50 states.
Malimon said she believes President Donald Trump won by record numbers and if truth prevails we will see that.
"Truth will prevail, and I know that 100 percent. We stand with truth, we stand with the American people, and we stand with God," she said. "And there is no way that they will steal this election from us. They have tried in many, many ways, they have tried everything. They bought off the news, they bought off everything they possibly could, and they think that they will have success but they will not. And I know that a hundred percent, that President Trump will be our president for the next four years."
This video is part of our special series 'What Voters Say.' To watch more videos click here.