Former President Donald Trump is leaning towards taking a trip to the U.S.-Mexico border soon, as federal officials struggle to deal with a surge in illegal border crossings.
"A lot of people want me to," including Border Patrol personnel, Trump said in an interview with Fox News on Saturday night.
"They want me there, they've asked me to go, and I really sort of feel I owe it to them. They're great people, they're doing an incredible job. It's impossible now with what [the Biden administration has] done," he added.
President Joe Biden rolled back a number of key measures the Trump administration had implemented to enforce border security, such as ending the so-called "catch and release" program, which allows illegal immigrants claiming asylum to be released into the United States as they await court hearings.
Less than one in five asylum claims are ultimately granted.
The policies have led to a sharp increase in illegal crossings at the border, with over 100,000 recorded in February alone, experts have told The Epoch Times.
The influx of unaccompanied children, in particular, has prompted federal officials to open or convert at least eight facilities to hold them, including three convention centers.
Administration officials continue to defend the policy changes, arguing the system under Trump was too restrictive and cruel.
Trump on Saturday said that in his view, the situation will get worse.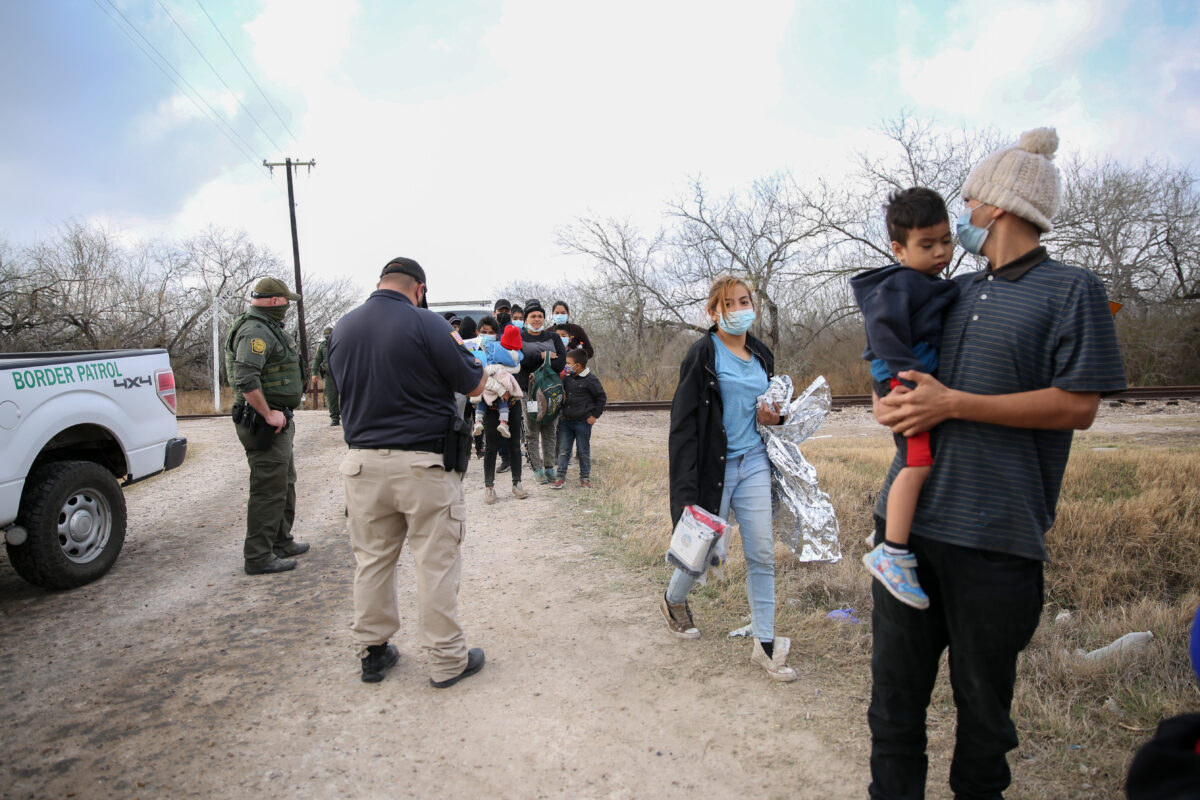 "Thousands and thousands of people are coming up right now as we speak. And you're gonna have millions of people pouring into our country, and it's going to destroy our country," he said.
"I don't know what they're doing, and they don't know what they're doing. It's a very, very dangerous situation. I'd love not to be involved. Somebody else is supposed to be doing it."
The visit to the border will likely come in the next couple of weeks, though Trump said he's in no rush to go.
Biden "is supposed to go," he said, adding: "I'm not looking to have a race, I'm looking to get a problem solved."
"I'm not sure that I really should do it, other than the fact that I have such respect for the Border Patrol and for ICE," he also said, referring to Immigration and Customs Enforcement.
The White House has said that there are no plans at present for Biden to visit the border.
Biden recently tasked Vice President Kamala Harris with handling the border crisis.
Harris during an interview with CBS last week said she'll travel to the border in the future.
"At some point, absolutely we will go down to the border," she said. "And I've been down to the border and our secretary of the Homeland Security, Alex Mayorkas, has been down there twice. Senior administration officials have been down there and yes, we will go."
"But the reality also is that in addition to the border, we also need to deal with the root causes. We need to deal with what's happening in the Northern Triangle and address it in a way that is about not only diplomacy but bringing our allies together," she added. "Dealing with what we need to do around aid in a way that is about developing those countries so that we also deal with the cause of why people are coming into our country."