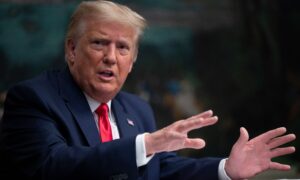 President Donald Trump on Nov. 26 announced that delivery of vaccines for the CCP (Chinese Communist Party) virus could begin as early as next week or the week after.
Trump made the announcement during a special Thanksgiving video teleconference with members of the military service stationed around the world and noted that front-line workers, medical personnel, and senior citizens would be the first to receive the vaccine.
"The whole world is suffering this tremendous pandemic, not just us, the world," he said. "And we're we are rounding the curve. The vaccines are being delivered literally. It'll start next week and the week after. And it will hit the frontline workers and seniors and doctors, nurses, a lot of people are going to start and we're going very quickly."
The president called the breakthrough a "medical miracle" that normally would have taken four or five years to get FDA clearance and said that his administration has "pushed very hard" for it to be approved, before wising military members a Happy Thanksgiving.
He also argued that Democrat Joe Biden should not be given credit for the vaccines and repeated previous claims of voting fraud in the 2020 election.
Read More
Infographic: The 4-Year-Long Campaign Against Trump
"Joe Biden failed with the swine flu, H1N1, totally failed with the swine flu," Trump said. "Don't let him take credit for the vaccines because the vaccines were me and I pushed people harder than they've ever been pushed before and we got that approved and through and nobody's ever seen anything like it."
Referencing the alleged voter fraud, Trump added, "This election was a fraud. This, it was a rigged election. I mean, I hate to say it, but this was a rigged at the highest level, it was a rigged election. So we have to figure it out."
The President also spoke with Navy service members on the USS Winston S. Churchill in the Red Sea, members of the Space Force in Colorado, and Coast Guard forces in the Kingdom of Bahrain, and repeatedly thanked them for their hard work.
Trump's comments come ahead of a Dec. 10 meeting where the Food and Drug Administration's Vaccines and Related Biological Products Advisory Committee (VRBPAC) will review Pfizer's request for emergency use authorization of its vaccine, developed in partnership with BioNTech.
Phase 3 clinical studies have shown the experimental vaccine has an efficacy rate of 95 percent and no serious safety concerns, according to Pfizer. The vaccine requires two doses several weeks apart, with protection from the CCP virus achieved 28 days after the first shot.
Read More
COVID-19 Vaccine Will Be Distributed to All Jurisdictions Within 24 Hours of FDA Approval: HHS
Based on current projections, the companies expect to produce globally up to 50 million doses in 2020 and up to 1.3 billion doses by the end of 2021.
There are more than 12.8 million confirmed cases of the CCP virus and over 263,000 related deaths in the United States, according to the latest figures from Johns Hopkins University.