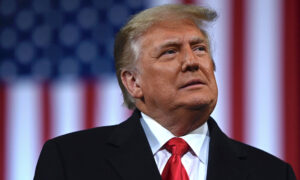 President Donald Trump said he plans to pass landmark election reforms along with a comprehensive overhaul of election security systems in the United States after the upcoming Georgia runoff race.
"After we win [the U.S. Senate], we need to pass landmark election reform including voter ID, residency verification, … citizenship confirmation," he said. "They want to say, 'He doesn't have to be a citizen.' You've got to see who's voting."
"It's a disgrace that in 2020, no state in America even makes any real attempt to verify that those who cast ballots by mail are eligible and lawfully registered voters. The evidence of fraud is overwhelming," he added.
In the November general election, widespread incidents of irregularities and alleged fraud have been reported, including where votes were cast in the name of dead people, across state lines, ballots backdated, and "glitches" caused by human error that switched Trump votes to Democratic presidential candidate Joe Biden.
Meanwhile, rejection rates for mail-in ballots have been uncharacteristically low despite the record-breaking number of the mail-in ballots sent out by state officials citing the COVID-19 virus pandemic.
According to data compiled by Professor Michael McDonald at the University of Florida, over 65 million people voted through the mail—much more than during 2016. However, rejection rates for 2020 have  been reportedly lower than those seen in 2016 for several states.
The president made the remarks during a rally in Georgia for Sen. David Purdue (R-Ga.) and Sen. Kelly Loeffler (R-Ga.), who both head to a runoff election on Jan. 5.
The runoffs will determine if the Republicans can hold their majority in the Senate.
Read More
Trump Says People Shouldn't Boycott Georgia Runoff Elections, Only 'Very Sick People' Benefit
The GOP currently holds a 50-48 lead over Democrats in the Senate, and will secure a majority if at least one of the two incumbents win in their race. If a 50–50 tie occurs, the vice president will serve as the tiebreaker vote.
The president's plan also includes an overhaul of election security systems, "because right now, Dominion is a joke, not a very funny joke," he said.
Right after the November general election, a whistleblower with a military background in Venezuela alleged in an affidavit on Nov. 16 that the company Smartmatic had participated in a scheme that manipulated the Venezuelan election result in favor of Chávez, The Epoch Times reported.
In the United States, attorney Sidney Powell filed lawsuits in Michigan, Arizona, and Georgia, accusing Dominion Voting Systems of being equipped with software designed by Smartmatic, introducing potential manipulation of the 2020 presidential election result.
Dominion Voting System has repeatedly denied any wrongdoing.