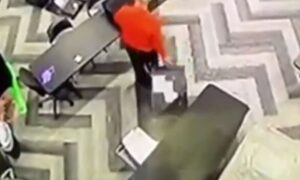 President Donald Trump and his lawyers say a viral video that appears to show Georgia election workers pulling boxes of ballots from underneath tables on election night shows cheating occurred during the election.
"People in Georgia got caught cold bringing in massive numbers of ballots and putting them in 'voting' machines," Trump wrote on Twitter late Thursday.
Rudy Giuliani, one of the president's lawyers, said on social media that the "video tape doesn't lie."
"Fulton County Democrats stole the election. It's now beyond doubt. Go to the tape!" he said, calling the video a "SMOKING GUN."
The Trump campaign's legal team presented the video during a state legislature hearing. They said it is surveillance footage from the vote counting center in Fulton County, which was provided by State Farm Arena.
The team said a woman told workers to stop counting and told everyone to go home but four people stayed behind to continue counting overnight without observers present. The footage appears to show workers pull boxes of ballots out from under a tablecloth.
Jenna Ellis, a Trump campaign attorney, said she was shocked to see the footage.
"Room cleared at 10:30pm. 4 people stay behind. Thousands of ballots pulled from under a table in suitcases and scanned," she wrote on twitter. "FRAUD!!!"
Susan Voyles, a Fulton County precinct manager, has described the boxes containing ballots as "like heavy-duty suitcases with padding on the inside."
State officials said after the video was presented that the boxes were used to store ballots.
"There wasn't a bin that had ballots in it under that table. It was an empty bin and the ballots from it were actually out on the table when the media were still there, and then it was placed back into the box when the media were still there and placed next to the table," Frances Watson, the chief investigator for the Georgia Secretary of State Brad Raffensperger, told a so-called fact-checking website.
It's unclear what she was referring to, as the video shows the containers remained under the table until they were pulled out late at night.
Gabriel Sterling, a top official in Raffensperger's office, added: "If you look at the video tape, the work you see is the work you would expect, which is you take the sealed suitcase looking things in, you place the ballots on the scanner in manageable batches and you scan them."
A spokesperson for Fulton County, in an email to The Epoch Times, did not dispute the authenticity of the video on Thursday.
"We take the responsibility of protecting the vote seriously and have invested every possible resource into ensuring a free, fair and transparent election in compliance with all applicable laws," she said.
"To date, we are aware of no credible reports of voter fraud or wrongdoing in Fulton County. Any credible report of such activity will be investigated and addressed as provided by Georgia law."
The spokeswoman didn't immediately respond when asked whether officials view the video as a credible report of voter fraud or wrongdoing, and whether they've opened an investigation into what it appears to show.
Georgia Gov. Brian Kemp, a Republican, said he was aware of the footage.
"It raises more questions. There needs to be transparency on that," he said on on Fox News's "The Ingraham Angle" on Thursday night.
"I called early on for a signature audit," he added. "I would again call for that and I think in the next 24 hours, hopefully, we'll see a lot more from the hearings that the legislature had today and we'll be able to look and see what the next steps are."