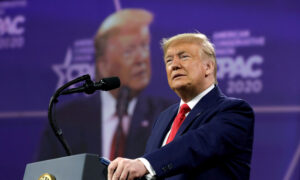 Former President Donald Trump is warning Republicans that efforts to abolish the filibuster in the Senate would cause significant damage to the GOP, following Democratic leaders saying that the 60-vote threshold needs to be eliminated to push their agenda through Congress.
"Look, he's hanging by a thread right now with respect to the filibuster," Trump said in reference to Senate Minority Leader Mitch McConnell (R-Ky.) and his attempts to push back against Democrats' attempts.
"And if they get the filler, he's hanging on [Democratic Sen.] Joe Manchin, who always goes with the Democrats. Joe talks, but he ends up going with the Democrats. Now there's another great senator from the state of Arizona. He's hanging by a thread and if they get rid of the filibuster, if they knock it out, it will be catastrophic for the Republican Party," Trump said on podcast "The Truth with Lisa Boothe."
Manchin, considered possibly the most conservative Democrat in the Senate, has said he is against abolishing the filibuster. Several other Democratic senators, including Sen. Dianne Feinstein (D-Calif.), have expressed similar positions.
Last week, McConnell warned that if the rule is eliminated, it would create legislative chaos.
"Let me say this very clearly for all 99 of my colleagues: Nobody serving in this chamber can even begin, can even begin, to imagine what a completely scorched-earth Senate would look like," the GOP leader said. "I want our colleagues to imagine a world where every single task, every one of them, requires a physical quorum."
The filibuster rule was originally adopted to give the minority party in the Senate more power.
Sen. Dick Durbin (D-Ill.), who previously supported the filibuster, last Monday said that it is damaging the nation's democracy.
"The filibuster is still making a mockery of American democracy. The filibuster is still being misused by some senators to block legislation urgently needed and supported by a strong majority of the American people," Durbin said in a speech on the Senate floor.
President Joe Biden said last week that he would support the old, "talking" filibuster.
"You had to stand up and command the floor and you had to keep talking along," Biden said in an interview. "Once you stopped talking, you lost that and someone could move in and say, I move to the question of. You've got to work for the filibuster. It is almost getting to the point where democracy is having a hard time functioning."