President Donald Trump on Saturday joined the crowd taking in the Army-Navy football game at West Point's Michie Stadium.
Trump flew to New York from Washington, arriving on the field just before 3 p.m. to cheers and chants of "USA."
Trump walked onto the field with acting Defense Secretary Christopher Miller and Joint Chiefs of Staff Chairman Gen. Mark Milley.
A prayer was followed by the presentation of colors, the national anthem, and a cannon salute.
Trump moved to centerfield for the coin toss. It wasn't clear if he made comments there because he wasn't mic'd up. The president then climbed to sit in the Army section at about the 40-yard line. He later moved to the Navy section.
Trump briefly donned a mask while watching the game. Pictures showed most if not all of the cadets wearing a mask.
Trump departed the stadium shortly before halftime to head back to the White House.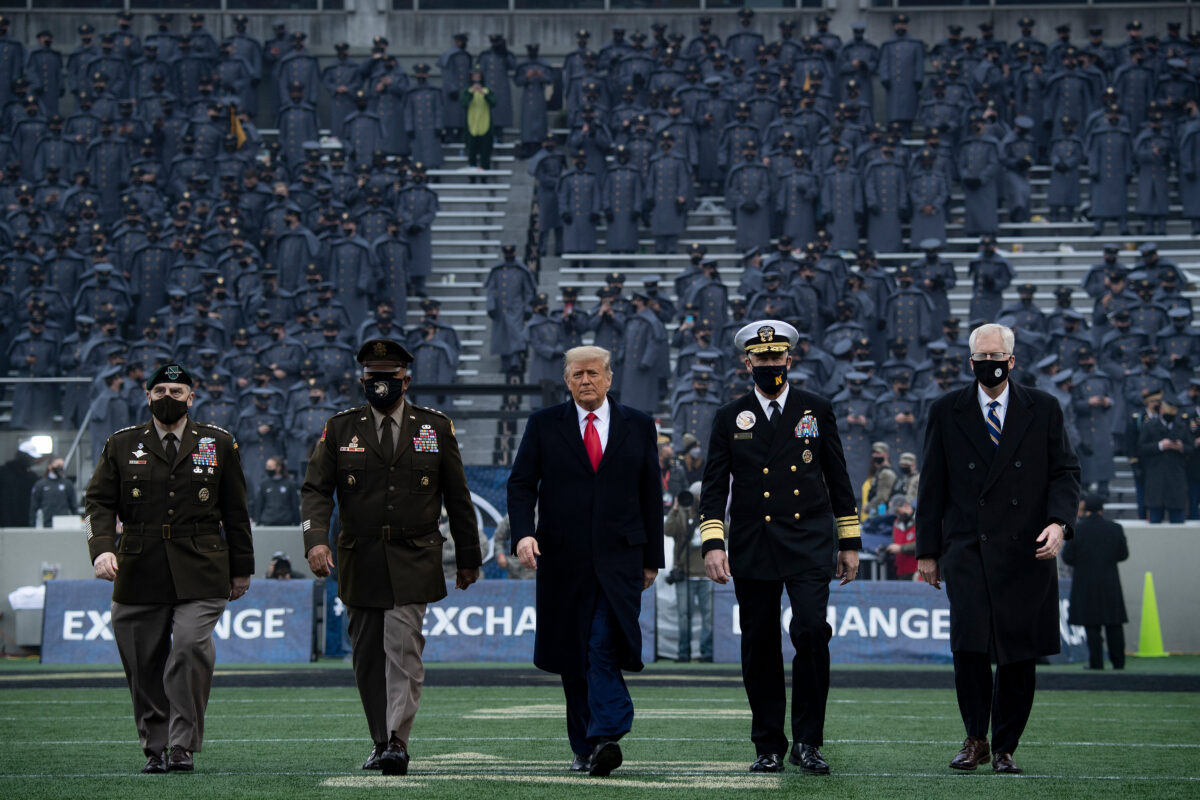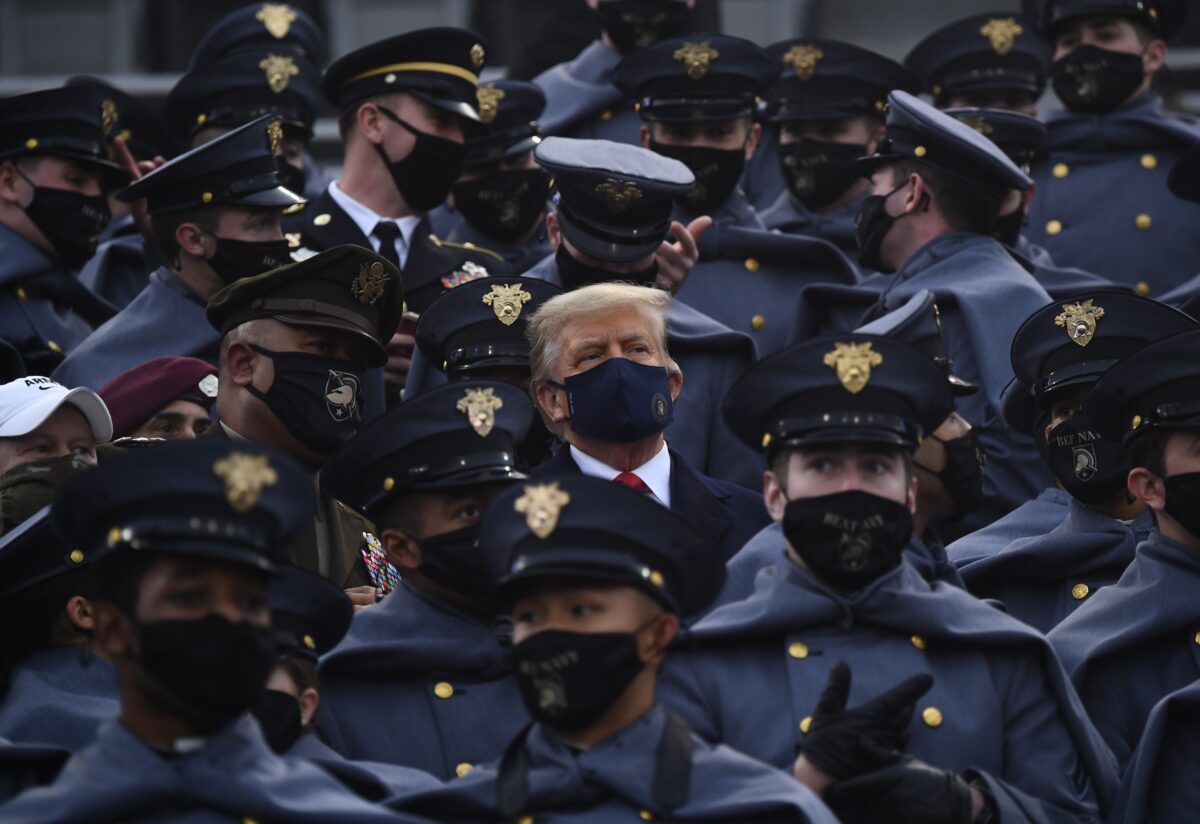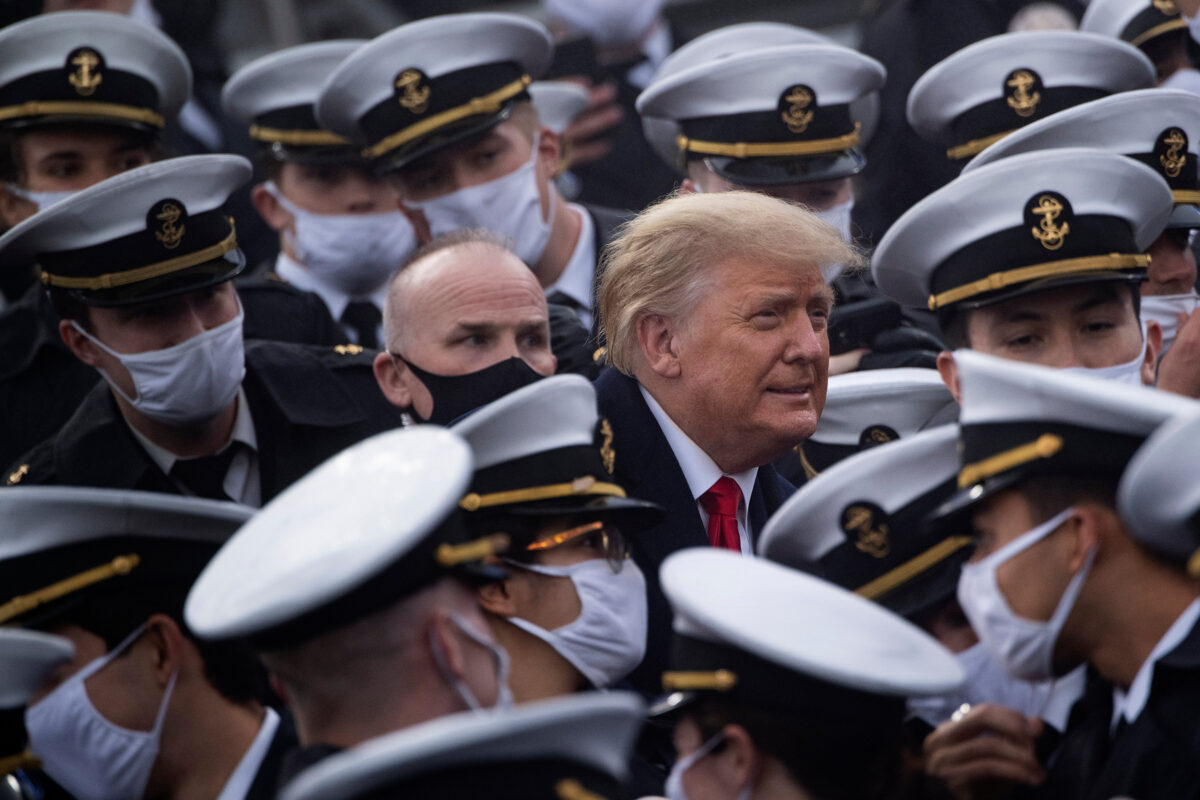 Trump didn't speak of the game on Twitter. He continued Saturday criticizing the Supreme Court over its decision to reject a lawsuit filed by Texas against four battleground states because of how they ran the 2020 election. And he suggested Attorney General William Barr should have revealed Democratic presidential nominee Joe Biden's son, Hunter, was under investigation by federal authorities before Election Day.
The third topic on Trump's mind was his supporters gathering in Washington to protest for election integrity. Trump flew over the crowd in Marine One, which ferried him from the White House to Andrews Air Force Base in Maryland. From there, Trump boarded Air Force One.
Biden has declared victory in the election but Trump and his allies are contesting results in some states and Trump says he won if only legal votes were counted.
The Epoch Times isn't calling the race at this time.
Trump's lawyer, Rudy Giuliani, said earlier Saturday that the president approved the filing of lawsuits in Pennsylvania, Georgia, and Michigan following the Supreme Court decision.
If Trump doesn't have standing, "no one does," Giuliani said on "War Room: Pandemic," referring to how the nation's top court opined that Texas lacked standing. "Then you can't sue for election fraud. Then the courts might as well announce, we can do election fraud for the rest of lives, and nobody can ever sue. They've come pretty close to announcing that anyway."
"Let's see if they're going to say to the president of the United States, you've been cheated—allegedly—cheated out of an election, and you don't have a chance to make that allegation in the court. We're not even going to allow you to make that allegation in court," he added. "Then, we've basically ended a country with a court system. What do we have left?