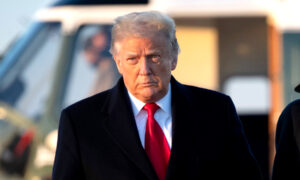 President Donald Trump on Friday announced he was vetoing a driftnet fishing bill that recently passed with support from both parties.
S. 906, or the Driftnet Modernization and Bycatch Reduction Act, would expand the definition of large-scale driftnet fishing to bar the use of gillnets with a mesh size of 14 inches or greater.
Trump said in a veto message to the Senate that, in passing the bill, "Congress has ignored the fact that the regional fishery management process has had strong, bipartisan support since its creation."
"By forcing the West Coast drift gillnet fishery to use alternative gear that has not been proven to be an economically viable substitute for gillnets, the Congress is effectively terminating the fishery. As a result, an estimated 30 fishing vessels, all of which are operated by family-owned small businesses, will no longer be able to bring their bounty to shore. At a time when our nation has a seafood trade deficit of nearly $17 billion, S. 906 will exacerbate this imbalance," he wrote.
The bill would also not achieve its purported conservation benefits, Trump said.
The House passed the bill 283-105 last month, after the Senate passed it without a recorded vote.
Sen. Dianne Feinstein (D-Calif.), one of the bill's sponsors, said last month that "we're finally close to removing deadly large mesh drift gillnets from California's waters."
"Federal waters off the coast of California are the last place in the United States these nets are still used to catch swordfish. However, they also indiscriminately kill whales, dolphins, porpoises, sea turtles, and other marine animals in the process. I'm hopeful the president will now sign our bipartisan bill to phase out these harmful nets and help the industry transition to more efficient, sustainable and profitable methods," she added.
In a new statement, Feinstein said there is not enough time to override the veto before the new Congress is sworn in on Jan. 3. She said she plans on reintroducing the bill on the first day of the new Congress.
Trump's move came around the same time the Senate voted to override his veto of the National Defense Authorization Act for 2021.
Trump vetoed the defense funding bill because it did not contain a repeal of Section 230 of the Communications Decency Act. He also opposed portions of the legislation, such as a part that mandates the renaming of some military bases.