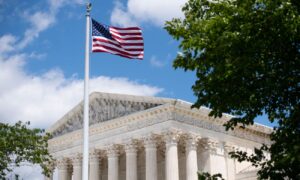 The U.S. Supreme Court is now the focus a battle about whether government officials can put places of worship under their control using emergency powers they gained amid the CCP virus pandemic, said Kelly Shackelford, who has been leading legal efforts to defend religious freedom for three decades.
Shackelford, during an interview with The Epoch Times' "American Thought Leaders," said it is "very disturbing" to see governors and mayors across the country start to target religious communities in abusing their new powers. "In state after state with some of these abusive leaders, they're clearly treating churches, synagogues, houses of worship differently than similarly situated secular activities."
Shackelford is the president and CEO of the Texas-based First Liberty Institute, the nation's largest legal firm that solely focuses on cases involving religious freedom. In November, First Liberty joined a lawsuit on behalf of Danville Christian Academy, a Kentucky K-12 school, against Gov. Andy Beshear for his in-person class restrictions.
Citing a surge in CCP virus infections, the Democrat governor signed an executive order on Nov. 18 requiring all public, private, and religious-based schools to cease in-person classes from Nov. 23 until at least Jan. 4, 2021.
The Danville Christian Academy was ordered to close despite keeping only a small number of socially distanced young children in each classroom and uses "every precaution imaginable," Shackelford told host Jan Jekielek. "I mean, all the religious schools across the state are being banned while at the same time it's okay to have 3,000 people at the Kentucky basketball game. It's okay to have strip clubs open, to have gambling parlors open, to go into a movie theater."
Days after the U.S. Court of Appeals for the Sixth Circuit upheld Beshear's executive order, First Liberty and Kentucky Attorney General Daniel Cameron filed an application with the U.S. Supreme Court, seeking to nullify the appeal court's ruling.
Shackelford said that with the recent addition of Justice Amy Coney Barrett to the Supreme Court, the solid conservative majority will protect the parents' right to choose a religious upbringing for their children, which he called "the most fundamental right in the First Amendment."
"I understand judges wanting to be deferential to government officials to some extent, but we're at a point now where if they don't stand in for the people, then people have no freedoms, because it's the court's job to protect and to speak for the Constitution," Shackelford said. "If they don't, nobody will."
"You really have officials across the country with unfettered power, and the Constitution really kind of—as Justice [Neil] Gorsuch said—on vacation, and that's not how this country is supposed to work," he continued. "So that was a really important decision that said, 'No, the Constitution is not on vacation. The First Amendment applies, and is alive and well.'"
With interview by Jan Jekielek.