Pennsylvania Attorney General Josh Shapiro, in a brief filed with the U.S. Supreme Court, denounced a Texas lawsuit against the state's procedures during the Nov. 3 election. Minutes later, the attorneys general for Wisconsin, Georgia, and Michigan issued similar court filings.
Shapiro wrote that Texas Attorney General Ken Paxton's lawsuit—which disputes the elections in Michigan, Georgia, Pennsylvania, and Wisconsin—is merely an attempt "at disenfranchising large swaths of voters and undermining the legitimacy of the election."
"Its request for this Court to exercise its original jurisdiction and then anoint Texas's preferred candidate for President is legally indefensible and is an [affront] to principles of constitutional democracy," the brief read. They further argued that Texas hasn't suffered harm "simply because it dislikes the result of the election, and nothing in the text, history, or structure of the Constitution supports Texas's view that it can dictate the manner in which four other states run their elections."
The Supreme Court had ordered the states to respond by 3 p.m. on Thursday.
"Texas is unable to allege that Wisconsin itself did anything to directly injure Texas's sovereign interests," Wisconsin Attorney General Joshua Kaul argued. Georgia Attorney General Christopher Carr said that Paxton's lawsuit "asks this court to transfer Georgia's electoral powers to the federal judiciary."
Nearly two-dozen other states filed an amicus brief that supports Shapiro's claim to the high court. At least 17 Republican-led states threw their support behind Paxton's lawsuit.
The case from Paxton was filed on Monday night, asserting the four battleground states made last-minute, unconstitutional changes to their respective election laws, treated voters unequally, and caused significant voting irregularities by relaxing ballot-integrity regulations.
Paxton, in a statement, said that "Georgia, Michigan, Pennsylvania, and Wisconsin destroyed that trust and compromised the security and integrity of the 2020 election."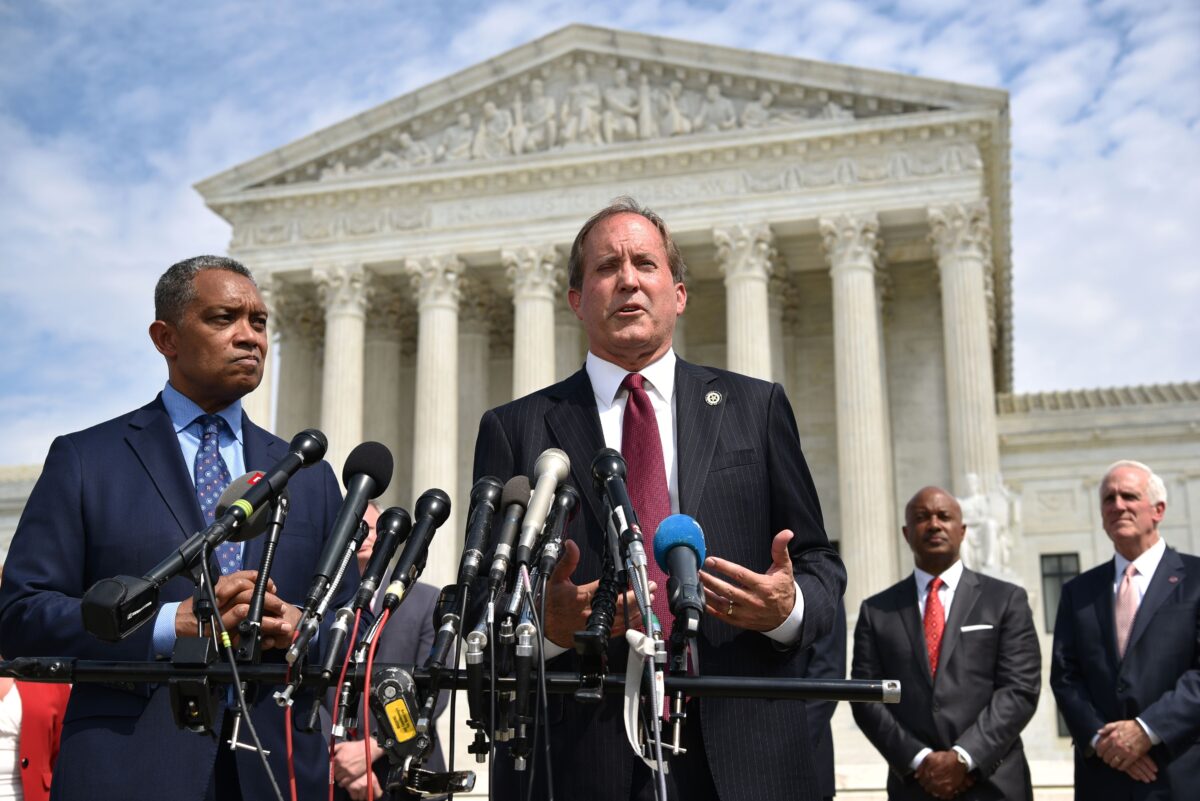 "The states violated statutes enacted by their duly elected legislatures, thereby violating the Constitution. By ignoring both state and federal law, these states have not only tainted the integrity of their own citizens' vote, but of Texas and every other state that held lawful elections," the Republican from Texas added. "Their failure to abide by the rule of law casts a dark shadow of doubt over the outcome of the entire election. We now ask that the Supreme Court step in to correct this egregious error."
Other than seeking a remedy to determine the outcome of the Nov. 3 presidential election, Paxton is asking the court to provide clarity to future ones.
"In addition to injunctive relief for this election, Plaintiff State seeks declaratory relief for all presidential elections in the future. This problem is clearly capable of repetition yet evading review," the suit reads. "This Court's attention is profoundly needed to declare what the law is and to restore public trust in this election."
Meanwhile, the Texas lawsuit seeks to extend the Dec. 14 Electoral College certification deadline for Pennsylvania, Michigan, Georgia, and Wisconsin.
President Donald Trump, who stands to gain the most from the Texas lawsuit, wrote Thursday that the "Supreme Court has a chance to save our Country from the greatest Election abuse in the history of the United States."