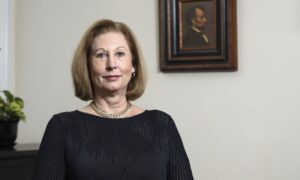 Attorney Sidney Powell said it is "extremely unsettling" to know that American elections are "just as rigged" as the elections in third world countries, she told the "Huckabee" show on Saturday.
Powell even suggested that the CIA might have been involved in creating the software used by Dominion, which she says is a company that should not be trusted with determining the election results, citing numerous witness statements from contractors and experts.
"It may have been the CIA that created the software and programs to begin with, and then exported them for their own use only to have it come back to us," she said.
Last month, Powell called on CIA Director Gina Haspel to be "fired immediately," arguing that Dominion Voting Systems should not have been allowed to be used in the elections, while calling for an investigation of state officials who approved purchases of the machines.
During the interview, Powell said that some very important, powerful, and extremely wealthy people might be involved in rigging the election because of "globalist interests."
"They could profit from their own nefarious activities," she alleged.
"I'm sure the media companies are involved in it too," Powell continued, responding to Huckabee's comment that the media keeps reporting that there's no evidence of massive voter fraud.
"I noticed how they—all on the same night as if they were cued at once—they stopped counting electoral votes, and the machines stopped counting in the swing states," she said. "It was all timed and planned and organized and funded."
Powell pointed out that Democrats, such as Rep. Carolyn Maloney(D-N.Y.), Sen. Elizabeth Warren(D-Mass.), and Amy Klobuchar (D.Minn.), were among the first to express concerns with the voting software well before the 2020 election.
Maloney wrote a letter to the then-Secretary of Treasury in 2006 (pdf) asking for more information about Smartmatic's acquisition of Sequoia Voting Systems. Warren in 2019 wrote to executives whose private equity firms respectively owned Dominion and Hart InterCivic—two of three election technology vendors who allegedly control over 90 percent of all votes in the United States (pdf).
Read More
Voting Machines Are a Totalitarian Tool Dressed in a Coat of Democracy: Ex-Intelligence Official
Powell also mentioned a video showing a 15-year-old hacking into Dominion voting machines in a span of 10 minutes.
"And a pro can do it in less than two," Powell added. "We also identified the fact that Smartmatic, Dominion people left VPNs wide open and unencrypted, to allow access by all kinds of foreign actors the night of the election."
"This isn't the first time it's happened," Powell continued. "We don't even know how many elections have been rigged by virtue of the software."
However, Powell told Huckabee that it's not too late to address the problems seen in the 2020 election. She pointed to the surveillance video that captured election workers at the State Farm Arena counting ballots after poll watchers and media were told to leave.
"They counted for three hours and put illegal ballots through the machine. That was more than 20,000 votes for Biden," Powell alleged. "That alone flips the state of Georgia."
Frances Watson, the chief investigator with the Georgia Secretary of State Brad Raffensperger's office, wrote in a court filing on Dec. 6 that observers and media were not asked to leave.
"They simply left on their own when they saw one group of workers, whose job was only to open envelopes and who had completed that task, also leave [sic]," Watson added.
However, several poll observers in Georgia said under penalty of perjury that they were effectively told to go home on election night before ballot counting seemingly resumed for several hours with no observers present, which would in violation of state law.
Zachary Stieber contributed to this report.