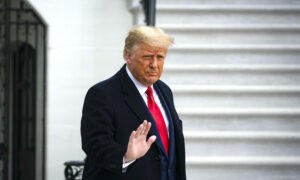 The Senate confirmed two more judges nominated by President Donald Trump to the federal bench on Wednesday, furthering his efforts to reshape the judiciary.
The confirmations come a day after the Senate approved another Trump nominee, U.S. attorney for the Northern District of Indiana Thomas Kirsch II, to fill the vacancy left by Justice Amy Coney Barrett, who was confirmed to the Supreme Court in October.
Katherine Crytzer and Joseph Dawson III were confirmed to their posts in the U.S. district courts via a vote on the Senate floor.
Crytzer, 36, was confirmed in a party-line 48-47 vote to fill a vacancy on the U.S. District Court for the Eastern District of Tennessee, which became open following the death of Judge Pamela Reeves. Cryzter was serving as a Justice Department attorney at the time of her nomination.
Meanwhile, Dawson was confirmed in a 56-39 vote to be a U.S. district judge for the District of South Carolina. He served as a Charleston County attorney prior to the nomination.
Trump and Senate Republicans have made significant appointments during the president's first term, which have changed the composition of the judiciary. By confirming younger conservative judges, the actions have shaped the longer-term direction of the nation, drawing criticism from progressives. Since taking office, Trump has nominated 232 federal judges who were then confirmed by the Senate, including three Supreme Court justices.
The pace for confirming judges during the Trump administration is the second-fastest for all U.S. presidents, according to the Article III project, a conservative group that has worked to support the confirmation of Trump's judicial picks.
Senate Majority Leader Mitch McConnell (R-Ky.) has also filed a cloture motion for other Trump judicial appointees who could receive a floor vote this week.
In October, the Senate voted to confirm Barrett to the Supreme Court to fill the vacancy left by Justice Ruth Bader Ginsburg.
Her confirmation hearing in the Senate Judiciary Committee went over four days and the full Senate held a more than 30-hour debate, which ended in a party-line vote of 52-48 to confirm Barrett to the court.
Her nomination and confirmation drew criticism from Democrats and advocates for progressive causes, who were worried that her ascension to the court would solidify a conservative lean in the nation's top court for years to come.