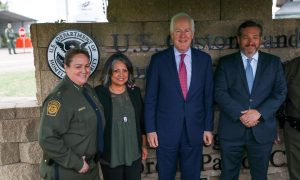 Senator John Cornyn (R-Texas) said on Monday that entering the United States illegally must have consequences or criminals will continue to exploit the system and profit from smuggling and transporting illegal immigrants across the southern border.
In Laredo, Texas, the senator met with a group of mayors, county judges, and community leaders to discuss how this crisis is impacting them. He said they discussed the "mess of the immigration courts, which have a backlog of 1.2 million cases."
"And in fact, the human smugglers and drug cartels know that because of our laws and our failure to offer consequences associated with illegal entry in the United States, that we will never get to those 1.2 million backlogged cases, and that people can simply evade the law by refusing to show up for their court-appointed date," said Cornyn from the Senate floor.
Cornyn said the people who benefit most from illegal immigration are transnational criminal organizations, drug cartels, human smugglers, and coyotes, who get paid to smuggle people across the border.
"Border Patrol told me the average smuggling fee for cartels to bring a single unaccompanied child into the Del Rio sector was more than $7,300 per child," said Cornyn, whose state shares 1,200 miles of border with Mexico.
Senator Ted Cruz (R-Texas) also weighed in on the surge at the southern border and attributed the crisis to the Biden Administration's policies.
"I think it is a crisis. I think it was fully avoidable. And it is getting worse. The Biden ministration came in with a political agenda, where they halted border wall construction. They reinstituted 'catch and release.' And they, in effect, issued an invitation for unaccompanied children to come to this country," said Cruz.
In February, 100,000 individuals were apprehended, according to the Department of Homeland Security, including 9,000 unaccompanied children and 19,000 migrants coming across as families. "Based on the sheer numbers, this is a problem," said Cornyn.
"The Biden Administration didn't inherit this mess—it helped create it," he added. "President Biden campaigned on the basis of policies that would lead to this very outcome. One woman across the Rio Grande, on a smuggler's raft, said the Biden administration is the reason she and her one-year-old son attempted the journey at all."
Democrats have downplayed the situation at the southern border, refusing to call it a crisis and blaming the Trump administration for leaving them with a "broken system." Senator Chris Murphy (D-N.Y.) said that the border crisis does not concern his constituents like the CCP (Chinese Communist Party) virus pandemic and resulting economic downturn do.
"You know, people's lives are not being affected by what's happening on the border today," said Murphy. "People's lives are being affected by the economic recession and COVID crisis. So, given the scope of the real crisis that exists, I don't think people's attention is going to be turned in a way that Republicans hope it will be. What's happening on the border is serious, but it didn't begin in January. It began last fall."
Murphy said Republicans are pushing a "narrative" about the southern border and that it's not as bad as they say it is.
"It's going to get worse, but again, the Republican narrative is that this was, this started when Biden became president. That's just fundamentally not true," he said. "It started last September. So, we've got to deal with it. But, for my constituents, they're much more focused on COVID and the economic crisis than they are about what's happening on the border."
Cornyn said Congress needs to address the issue at the southern border because it will only get worse.
"One of the people involved in the operation of the Carrizo springs facility said this is a category 5 hurricane, with tropical-storm-force winds on the coast," said Cornyn. "It is coming."