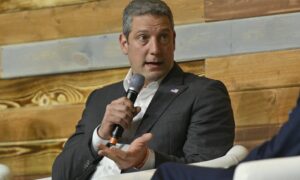 Rep. Tim Ryan (D-Ohio), chairman of the House Subcommittee of Legislative Branch, says his committee is working with retired Lt. Gen. Russel Honore's recommendations to appropriate funds to secure the U.S. Capitol, after an attack that occurred Friday that resulted in the death of a Capitol police officer.
Ryan, whose committee has jurisdiction over Capitol security, said in a CNN interview on Monday that his committee has "a game plan with the recommendations from General Honoré and we are teeing up a supplemental bill to fund that. And we're moving in the right direction but clearly, these are difficult times."
Current security measures at the Capitol, including barbed wire fencing that has been a cause for complaint from lawmakers, were not able to stop a man from slamming his car into two Capitol officers at a checkpoint on Constitution Ave., resulting in the death of one of the officers and the attacker.
"But we have to take these bigger steps around really securing the Capitol, making sure that the police are, as you know, not as vulnerable as they are now, maybe, and have a quick rapid response force, harden the Capitol district offices," said Ryan. "These are things we're going to get done, and we're going to get done very, very soon, but again it's not going to eliminate the threat that all cops take every single day."
After the Jan. 5 breach of the Capitol, Honoré was chosen by House Speaker Nancy Pelosi to review the security for the Capitol. In a March 5 report, Honoré detailed his recommendation to upgrade Capitol security, including putting in mobile fencing and hiring hundreds of new police officers.
"Until we have the plan implemented, and that's what we got to get to John, we got to get this plan implemented as quickly as possible, but when you're talking about hiring 800 new police officers or 1000 new police officers, you need 18 resumes for every one person that you're going to hire," said Ryan. "This is not something that we have a magic wand (for), and we're going to be able to waive it overnight."
Sen. Roy Blunt (R-Mo.), ranking member of the Senate Rules Committee, said he agrees that Congress should secure funding for Capitol security needs.
"Well, in terms of the supplemental budget, I agree with that. I think we need to be looking at what our needs are. We need to be thinking about how we're gathering intelligence as it relates to the Capitol, and what we're doing to recruit, and what we're doing to train. I think that's maybe even more important than the size of the force," Blunt told Fox News on Sunday.
Blunt wants to see the current fencing around the Capitol taken down, adding that it is not addressing the ongoing and complex security needs of the Capitol.
"I think the permanent fencing should come down. I don't think it does the job. In fact, the fencing was right there when the car drove through," said Blunt. "One of the things that General Honoré talked about weeks ago was the fact that actually fencing can create a false sense of security on a daily basis."
"I think it would be a mistake for fencing to be a permanent part of the Capitol. The message we send is the wrong message. Frankly, we're probably preparing for the wrong thing. The idea that what happens next at Capitol will be what happened last is almost certain not to be the case," said Blunt.
Meanwhile, Ryan said he wants a replacement plan for the fencing before it is taken down. "I think we've got to start moving in the direction of taking the fencing down, but I also think that until we have a real game plan in place, then we've got to be very careful in taking it down," said Ryan.