HUNTSVILLE—Rep. Mo Brooks (R-Ala.) on Monday announced his 2022 candidacy for the U.S. Senate seat vacated by the retiring Sen. Richard Shelby (R-Ala.).
Brooks made the announcement at Bullet and Barrel, a gun range in Huntsville, Alabama, alongside Stephen Miller, a senior advisor to former President Donald Trump.
Brooks is the second Republican to enter the fray for Shelby's seat. Trump's former ambassador to Slovenia, Lynda Blanchard (R), announced her run last month.
It is unclear who Trump will endorse, although Miller's appearance suggests that the former president has his eye on Brooks. Blanchard has described herself as part of the MAGA (Make America Great Again) family and held a fundraiser at Trump's Mar-a-Lago resort in Palm Beach, Florida. Brooks was the earliest proponent of the Trump-backed effort to challenge the 2020 Electoral College votes during the joint session of Congress on Jan. 6.
An endorsement by Trump is the chief form of political capital for candidates heading into the 2022 election. The president has high approval ratings among the Republican base and sports a nearly-undefeated record of endorsements dating back to the 2018 election.
A Trump advisor told The Epoch Times on March 21 that the former president was leaning toward endorsing Brooks over Blanchard. Brooks made a negative comment about Trump ahead of the 2016 election but went on to secure Trump's favor, including an endorsement for the 2018 election.
In his announcement speech, Brooks steered clear of mentioning Blanchard by name but devoted a portion of his speech to highlight his conservative track record in Congress and his alignment with Trump. He noted that the former president has twice endorsed him and that he fought alongside Trump to secure funding for the wall on the southern border.
"No other candidate for the U.S. Senate can say that," Brooks said.
"I led the charge in Congress to promote honest and accurate elections. At first, my fight was pretty darn lonely. But over time, 140 congressmen and senators joined my fight against voter fraud and election theft," Brooks added, referring to his leading the movement to challenge Electoral College votes during the joint session of Congress on Jan. 6. "Your Alabama congressman led that fight and no other Alabama candidate for the U.S. Senate can say that."
Miller, who worked as Trump's speech-writer on the campaign trail in 2016 and a senior advisor for all four years in the White House, delivered an impassioned endorsement for Brooks. Miller said he's worked with Brooks on solving the border crisis and described the Alabama congressman as the man the America First movement needs in Washington.
"Your vote for Mo Brooks will allow him to carry on the America First Agenda. The fight to save America and to save our country, our Constitution, and our Liberty begins right here in Alabama and it begins right here with your support for Mo Brooks," Miller said.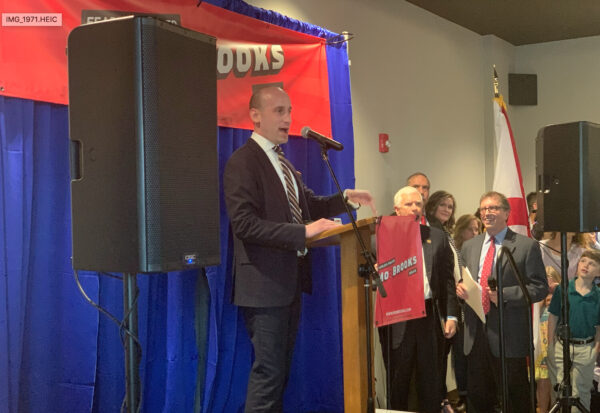 Brooks was born in South Carolina and moved to Huntsville, Alabama, with his parents when he was a child. After graduating from the University of Alabama School of Law in 1978, he became a practicing attorney. Brooks served in the Alabama House of Representatives from 1982 to 1992. He then served as a member of the Madison County Commission until 2011, when he began his first term in the U.S. House of Representatives.
In 2017, Brooks finished third in a Republican primary for the U.S. Senate seat vacated by Sen. Jeff Sessions (R-Ala.), who became the U.S. attorney general.
In Congress, Brooks has had a solidly conservative track record, receiving top grades from the American Conservative Union, the National Taxpayers Union, and the Club for Growth. He was a candidate preferred by the Tea Party.
Brooks is not a member of the gun range where he made the announcement and doesn't have any ties to the business aside from renting the space for a prior political event, according to Gun and Barrel owner Melanie Hammer Murray.
"I am not a registered member of any party," Murray told The Epoch Times. "I am first and foremost a child of God, a wife, a mother and a small business owner trying to support firearms owners regardless of politics."