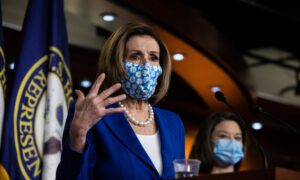 Rep. Rodney Davis (R-Ill.) charged House Democrats Monday with the "height of political hypocrisy" in moving to remove Rep. Mariannette Miller-Meeks (R-Iowa) and replace her with the Democrat she defeated last November, Rita Hart.
"It's the height of political hypocrisy for Democrats like House Speaker Nancy Pelosi to talk just a few weeks ago about how sacrosanct certificates of election are," Davis told The Epoch Times.
"Mariannette Miller-Meeks possesses a certificate of election from the state of Iowa signed by Republican and Democratic elected officials after bipartisan recounts," Davis said.
Davis was referring to claims by Speaker of the House Nancy Pelosi (D-Calif.) and other House Democrats prior to and during the Jan. 6 congressional debate to consider state-certified electoral votes in the presidential election between former President Donald Trump and President Joe Biden.
Republicans claimed Congress has the power to reject a state's certification in that case, while Democrats rejected the argument. Now those positions are reversed, thanks to Democrat Rita Hart's challenge of Miller-Meeks' six-vote victory even though the Republican's win was certified by Iowa election officials and she was sworn-in to Congress Jan. 3.
The Jan. 3 edition of the Congressional Record included Miller-Meeks among 434 re-elected or newly elected members of the House of Representatives, who presented state certificates of being duly elected to the 117th Congress. Miller-Meeks was sworn-in the same day.
Hart's challenge bypassed Iowa courts and went directly to the House Administration Committee, which is chaired by Rep. Zoe Lofgren (D-Calif.) and which has jurisdiction over such issues.
Peter Whippy, a spokesman for Lofgren and Democrats on the administration panel, referred to a March 24 news release when asked by The Epoch Times for a response to Davis.
"Republicans know how this process works," Lofgren said in the release. "Over the past 90 years, the Congress has adjudicated, in a bipartisan manner, more than 100 contested elections cases filed by Republicans and Democrats alike in races nowhere near as close as Iowa's Second.
"With that history in mind, it is profoundly disappointing some of my Republican colleagues are now painting this process as somehow nefarious.  Under the law, state certification is a requisite for establishing a contested election case."
Hart is represented by attorney Mark Elias. He and the Seattle-based Perkins Coie law firm frequently represent Democratic campaigns and candidates in election law and ethics cases.
He and colleagues from the firm were recently sanctioned by the U.S. Court of Appeals for the Fifth Circuit for filing "redundant and misleading information" and were ordered to pay legal and punitive costs of their opponents in the case.
In that case, the Elias firm was representing the Democratic Senatorial Campaign Committee and the Democratic Congressional Campaign Committee in a lawsuit against Texas officials in the case that prompted the sanctioning.
Elias also represented 2016 Democratic presidential candidate Hillary Clinton, whose campaign paid for the opposition research firm he hired, Fusion GPS that produced the since discredited "Steele Dossier" containing multiple false allegations against Trump.
Davis said Monday "Marc Elias is representing Rita Hart, being paid for by the Democratic Congressional Campaign Committee (DCCC) and at the same time he is the personal campaign finance attorney for three [Democratic] members of the House Administration Committee.
"How in the world can you have Mark Elias being the attorney of record for both the plaintiff in the case [Hart] and the judges [members of the administration panel]?"
Asked if Lofgren or any other member of the House Democratic leadership has responded to his March 19 letter describing the multiple Elias conflicts of interest, Davis said "no, not all."
Davis was also critical of the rules committee Democrats adopted for processing Hart's challenge.
"The process Zoe Lofgren put forward was backwards. It put the onus of discovery on the back of Congresswoman Miller-Meeks to prove that Rita Hart's case is wrong, rather than Rita Hart having to prove that Miller-Meeks should not have been seated," Davis said.
"It's typical coming from a lawyer like Marc Elias. The rules don't apply to them," Davis added.
Davis said he believes there are seven House Democrats who have either said they will not support seating Hart or that they have serious questions about the current process.
"I can only go by the public statements and right now my count has about seven Democrats either saying they are not going to vote to unseat Miller-Meeks, or that they've got concerns with the process," Davis told The Epoch Times.
"Pelosi can only afford to lose five votes right now and at this point I don't think she has unanimity in her own caucus and I think there are a lot of folks in that caucus that are taking a step back and saying it's pretty hypocritical to talk about how sacrosanct certificates of election were just a few weeks ago and to now question the certificate of election from the state of Iowa," he said.
Congressional corresponding Mark Tapscott may be reached at mark.tapscott@epochtimes.nyc