President Donald Trump's chief negotiator and House Speaker Nancy Pelosi (D-Calif.) are set to speak about a new COVID-19 relief package on Tuesday.
"I will be speaking to the Speaker this afternoon," Treasury Secretary Steven Mnuchin, the negotiator, told reporters as he arrived on Capitol Hill for a Senate Banking Committee hearing. "We're going to talk about where we are on the appropriations issue and keeping the government running. That is the first priority and I'm sure we'll also be mentioning COVID issues."
Mnuchin said that Trump "would like to see funding, especially for small businesses," when asked whether the president would like a fresh relief package by the end of 2020.
Trump has repeatedly said he wants a deal but his team has failed to reach a compromise acceptable to Democrats, who want a larger, more comprehensive package to the tune of the $2.2 trillion deal hammered out in March.
Over the past several months, Schumer and Pelosi have said they won't pass a measure that's less than $2.2 trillion, while the White House hasn't gone above $1.9 trillion.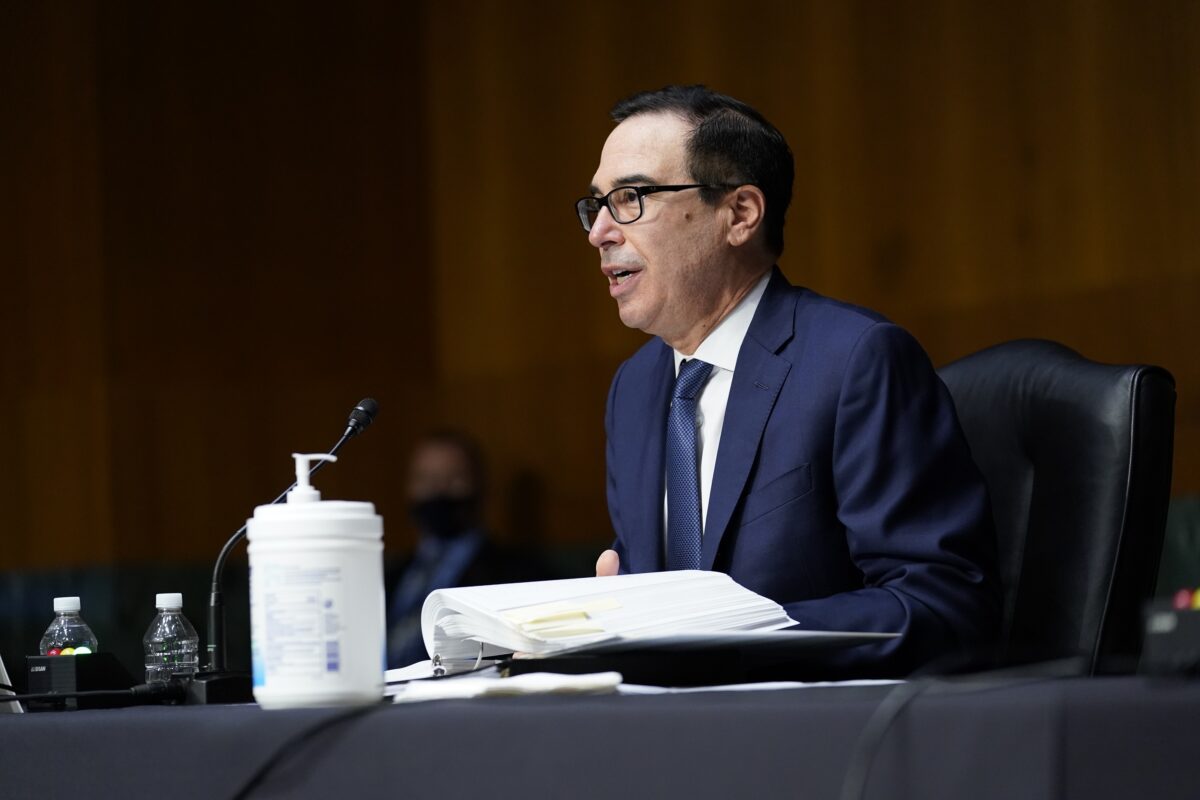 A key sticking point is whether to include financial aid to state and local governments. Trump has said he doesn't want to bail out such governments while Democrats say they need assistance because of the economic devastation wreaked by harsh restrictions implemented to try to curb the spread of the CCP (Chinese Communist Party) virus, which causes COVID-19.
Senate Majority Leader Mitch McConnell (R-Ky.), whose support is required for any package to pass, said on Monday that Republicans have put forward targeted proposals like one that would send more than $100 billion to help schools safely reopen.
"We tried to implement common sense legal protections that universities and charities have been clamoring for. We have tried to pass all of this over and over again. But Speaker Pelosi and the Senate Democratic leader have blocked it," he said, adding, "The speaker of the house spent the entire summer and the entire autumn literally gambling with the health and welfare of the American people."
Senate Minority Leader Chuck Schumer (D-N.Y.) told colleagues on the Senate floor that the top item on the body's to-do list should be COVID-19 relief.
"As this chamber gavels back into session, we must redouble our efforts before the end of the calendar year. As the pandemic increases in severity, so does the economic pain felt by countless working families and small business owners," he said.
Opening the hearing on Tuesday, Mnuchin noted that the first relief package, the CARES Act, passed 96–0 in the Senate and received bipartisan support in the House.
While that act helped America start recovering, "additional economic shutdowns continue to impair this remarkable progress and cause great harm to American business and workers," the secretary said.
"Based upon the recent economic data, I continue to believe that a targeted fiscal package is the most appropriate federal response," he said.
Sen. Sherrod Brown (D-Ohio), the committee's ranking member, immediately criticized Mnuchin, telling him: "I wish you and your administration would stop crowing about the stock market and stop passing the buck instead of doing the hard work."
Jack Phillips contributed to this report.