A Michigan Senate committee will meet next week to review vote counting in Detroit, a move that comes after the Trump campaign announced that there would be legislative hearings in multiple battleground states to probe election results and irregularities.
The Michigan Senate Oversight Committee is scheduled to meet on Dec. 1, with the agenda indicating that members will hear testimony about absentee ballot counting at Detroit's TCF Center, the site of Election Day drama and ensuing protests over what some alleged was a fraudulent process.
Commenting on the hearing, spokeswoman for state Senate Majority Leader Mike Shirkey (R-Clarklake) told Detroit Free Press that the event was previously planned and "is not at all related" to the Trump campaign's election-related efforts in Michigan.
Michigan officially certified its election results on Monday, handing victory in the state to Democrat Joe Biden, although attorney Sidney Powell filed a lawsuit on Wednesday, alleging voter fraud with the complicity of state officials and asking the courts to order the results de-certified.
Prior to that, on Saturday, Michigan Republican Party Chairwoman Laura Cox and Republican National Committee Chairwoman Ronna McDaniel called on Michigan to carry out a full and transparent election audit before certification, with their letter noting "numerical anomalies and credible reports of procedural irregularities" made by GOP Senate candidate John James.
The Trump campaign's legal team announced Tuesday that state legislatures in Pennsylvania, Arizona, and Michigan will be holding public hearings on the 2020 general election to restore confidence in election integrity.
"It's in everyone's interest to have a full vetting of election irregularities and fraud," President Donald Trump's personal lawyer Rudy Giuliani said in a statement. "And the only way to do this is with public hearings, complete with witnesses, videos, pictures, and other evidence of illegalities from the November 3rd election."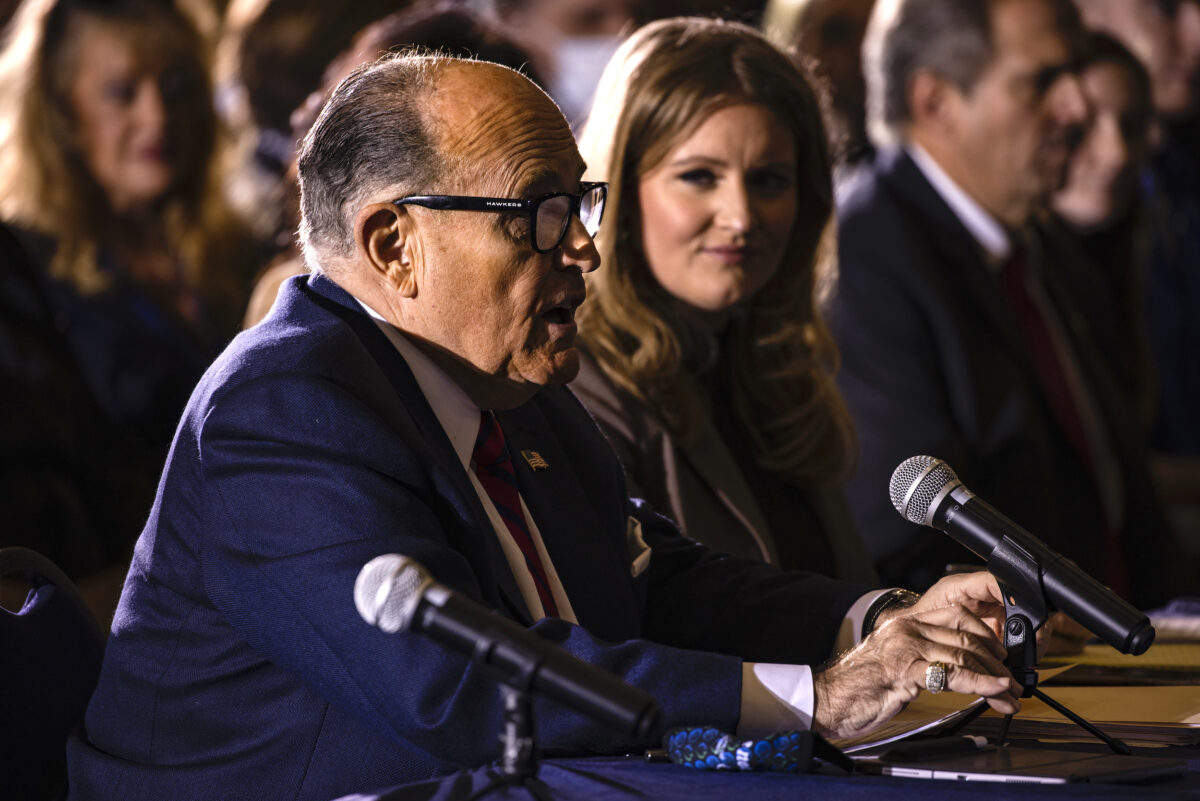 Jenna Ellis, Trump's personal lawyer and legal adviser to the Trump campaign, said that the campaign is pleased about the hearings.
"There were serious irregularities, we have proof of fraud in a number of states, and it is important for all Americans to have faith in our electoral process," she said in a statement. "All we have wanted from the outset is to count every legal vote and discount every illegal vote."
The first of these hearings was held on Wednesday at the Pennsylvania State Senate in Gettysburg. At the hearing, Giuliani made a case for widespread voter fraud and urged Pennsylvania state senators to appoint their own slate of electors.
Giuliani responded to claims that Republicans are trying to disenfranchise voters by filing lawsuits.
"We want to disqualify 672,000 votes so that 74 million people are not disenfranchised," Giuliani said, referring to the number of people who voted for Trump.
Pennsylvania's Democratic Secretary of State Kathy Boockvar said she has seen no evidence of voter fraud or mass irregularities that would overturn the election results in the state.
Pennsylvania Senate Democrats, in response to the GOP hearing, said Giuliani is "peddl[ing] unsubstantiated voter fraud claims in any place that will have him" and won't accept the "loss with grace or a modicum of dignity."
Pennsylvania, Arizona, Michigan are among six battleground states facing ongoing litigation amid allegations of voting irregularities from the Trump campaign and hundreds of witnesses. With 79 electoral votes between them, Pennsylvania, Georgia, Michigan, Wisconsin, Arizona, and Nevada will likely decide the outcome of the 2020 presidential election.
Michigan, Pennsylvania, Georgia, and Nevada have voted to certify their states' election results. Recounts are underway in Georgia and Wisconsin.
Ivan Pentchoukov contributed to this report.