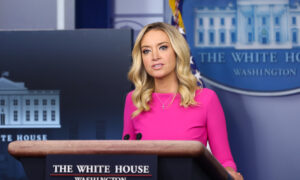 White House press secretary Kayleigh McEnany suggested President Donald Trump will not concede any time soon, saying he is "still involved in ongoing lawsuits" challenging the election.
Monday's Election College vote is "one step in the constitutional process leading up to the Jan. 20th date," or Inauguration Day, McEnany said at the White House on Tuesday. "He is still pursuing ongoing litigation for this election," she said.
Electors in all 50 states cast their votes, with former Vice President Joe Biden and Sen. Kamala Harris (D-Calif.) receiving 306 votes to Trump's 232. However, the Republican parties in several key states such as Arizona, Michigan, Wisconsin, Pennsylvania, and Georgia said their electors cast votes for Trump and Vice President Mike Pence; they said those votes were cast to keep legal challenges open for the president.
Georgia GOP Chair David Shafer wrote that the move was due to a lawsuit in Georgia filed by Trump's team. "Had we not met today and cast our votes, the president's pending election contest would have been effectively mooted. Our action today preserves his rights under Georgia law," he said in a statement. A similar statement was issued by the Pennsylvania GOP on Monday.
McEnany on Tuesday also dismissed a reporter's question asking whether Trump is trying to de-legitimize millions of votes.
"I think pursuing legitimate litigation through the judicial system is in no way assaulting democracy" and is using "institutions in the manner they are to be used to pursue legitimate claims with sworn affidavits and additional evidence," she said. The press secretary noted the real "assault on Democracy" is how Trump faced yearslong pressure and accusations from media outlets and Democratic politicians claiming that he colluded with Russia, which ultimately resulted in then-special counsel Robert Mueller's report saying he found no evidence of collusion in the 2016 election.
Her remarks came as Rep. Mo Brooks (R-Ala.) again said he would try to challenge the Electoral College votes for several key states during the Joint Session of Congress on Jan. 6 when the votes are read. It's unclear, however, if such a bid would gain traction among Republicans in Congress.
"Apparently, some folks have not done their history. By way of example, the Democrats in the House tried it in 2017 when they tried to strike Alabama's votes for Donald Trump," Brooks told Fox Business on Monday evening. "Georgia, the same way, the House Democrats tried to strike it. Barbara Boxer tried to strike Ohio for George Bush back in 2005, so this is not unusual. The law is very clear, the House of Representatives in combination with the United States Senate has the lawful authority to accept or reject Electoral College vote submissions from states that have such flawed election systems that they're not worthy of our trust."