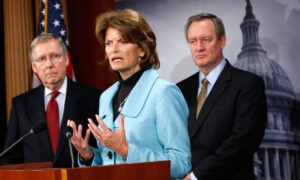 A top Republican super PAC endorsed Sen. Lisa Murkowski (R-Alaska) if she runs for reelection in 2022—after former President Donald Trump and Alaska's GOP said they would work to primary her.
The Senate Leadership Fund, which is aligned with Senate Minority Leader Mitch McConnell (R-Ky.), said Murkowski has shown "conservative values" and noted that she voted for Supreme Court Justices Neil Gorsuch and Amy Coney Barrett. The group added that Murkowski also voted for Trump's landmark tax bill.
"Alaska needs the kind of experienced representation that Lisa Murkowski provides in the United States Senate. Whether fighting for Alaskan interests like expanding energy production and protecting fisheries, or advancing conservative priorities by confirming judges and cutting taxes, her strong leadership is vitally important to Alaska's future. Many politicians put themselves first, but Lisa Murkowski always puts Alaska first," said the Fund's president, Steven Law, in a statement on Friday.
Murkowski was one of seven Republican senators who voted to convict Trump during his second impeachment trial following the Jan. 6 Capitol breach.
Trump, since then, has criticized the Alaska senator and said he would primary her. The Alaska Republican Party, meanwhile, censured Murkowski over the impeachment vote and other actions she took as senator.
Trump in March said he will "not be endorsing" Murkowski "under any circumstances," and he vowed to campaign against her in Alaska. Trump also called out the Alaska senator during his speech in late February at the Conservative Political Action Conference in Florida.
"The Republicans do not stick together. The RINOs that we're surrounded with will destroy the Republican Party and the American worker and will destroy our country itself," he said, using an acronym that means "Republican in name only." Trump then went on to list the names of senators and House members who either convicted him or impeached him.
Last month, Alaska Commissioner of Administration Kelly Tshibaka, a Republican, announced she would run for Murkowski's seat in 2022. Tshibaka described Murkowski as a Washington insider.
"We know what Washington D.C. thinks about Alaska: We're here for their benefit, and we won't put up much of a fight. After nearly 20 years in D.C., Lisa Murkowski thinks the same way," Tshibaka stated. "But you know what? Nothing scares the D.C. political insiders more than the thought of a strong, independent Alaskan leader in their ranks. One they can't bully. One they can't control. One they can't silence."
Tshibaka, in the meantime, has hired several former Trump campaign officials, including former Trump campaign manager Bill Stepien and Trump communications director Tim Murtaugh.
Murkowski has not yet confirmed whether she will run for reelection. Her office at the time did not respond to a request for comment following Tshibaka's announcement.
The Senate Leadership Fund was established in 2015 by several of McConnell's allies. Law, who also serves as the group's CEO, was McConnell's chief of staff from 1991 until 1997.
McConnell last month told CNN that he and other Senate Republicans will "absolutely" back Murkowski if she runs.