Rep. Matt Gaetz (R-Fla.) could lose his seats on the House Armed Services and Judiciary committees if allegations that he had an improper relationship with a 17-year-old are true, said House Minority Leader Kevin McCarthy (R-Calif.).
Gaetz confirmed on social media and to media outlets Tuesday night that he is being investigated by the Department of Justice (DOJ) about alleged sexual misconduct.
"Those are serious implications," McCarthy told Fox News on Wednesday. "If it comes out to be true, then yes, we would remove him if that was the case. But right now, Matt Gaetz said it is not true, and we don't have any information. Let's get all the information."
McCarthy, who said he has not spoken to Gaetz, said he hopes to "be able to talk to him" Wednesday.
The New York Times first reported on the allegations and cited three anonymous, unnamed sources. The Epoch Times has contacted the DOJ for comment.
"The allegations against me are as searing as they are false," Gaetz told Axios. "I believe that there are people at the Department of Justice who are trying to criminalize my sexual conduct, you know when I was a single guy."
Gaetz told The Epoch Times in a statement that he believes the allegations are rooted in an "organized criminal extortion involving a former DOJ official seeking $25 million while threatening to smear my name."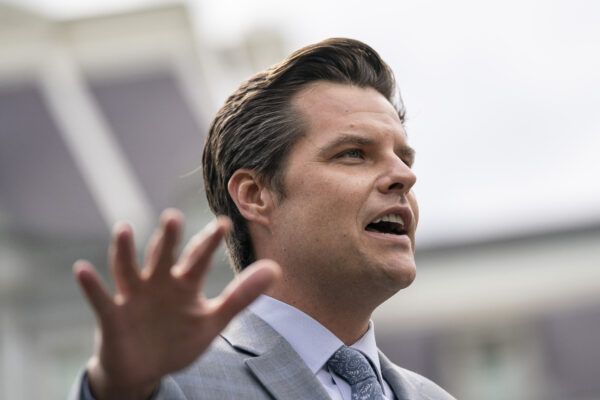 He didn't specify who could be behind the plot, but named former lead attorney for the DOJ's Organized Crime Task Force, David McGee, as being involved in the alleged extortion attempt. The Epoch Times has reached out to McGee for comment.
McGee told The Daily Beast that Gaetz's claims are "completely, totally false."
"This is a blatant attempt to distract from the fact that Matt Gaetz is apparently about to be indicted for sex trafficking underage girls," he said.
Gaetz told Fox News' Tucker Carlson that his family has been cooperating with the DOJ's investigation, claiming his father wore a wire. He called on the agency to immediately release the wired conversations between the former DOJ official and his father.
"I know that there was a demand for money in exchange for a commitment that he [the former DOJ official] could make this investigation go away," Gaetz said in the Fox News interview Tuesday night.
The lawmaker, meanwhile, sent Axios screenshots of text messages, documents, and emails about the alleged extortion attempt. The website did not publish the screenshots.
"I have definitely, in my single days, provided for women I've dated. You know, I've paid for flights, for hotel rooms. I've been, you know, generous as a partner. I think someone is trying to make that look criminal when it is not," he told Axios.
Isabel Van Brugen contributed to this report