The Democrat senator considered the most moderate in his party in the upper chamber said this week that the events of Jan. 6 compelled him to work harder on bringing different lawmakers together.
"Jan. 6 changed me. And I was very clear with everybody: I never thought in my life, I never read in history books to where our form of government had been attacked, at our seat of government, which is Washington, D.C., at our Capitol, by our own people," Sen. Joe Manchin (D-W.Va.) said during an April 8 interview with CNN.
"Now the British did it, but not Americans. So something told me: 'Wait a minute. Pause. Hit the pause button.' Something's wrong. You can't have this many people split to where they want to go to war with each other," he added.
On Jan. 6, rioters stormed the U.S. Capitol and clashed with law enforcement officers before ultimately being ejected. One, Ashli Babbitt, was shot dead by a Capitol Police officer.
Democrats hold a slim majority in the Senate despite both they and Republicans holding 50 seats in the chamber. That's because Vice President Kamala Harris can cast tiebreaking votes in her role as president of the Senate.
Manchin has gained power because he can kill a proposal Republicans don't like with his opposition, since the White House needs his backing to pass partisan bills.
Manchin voted for the partisan COVID-19 relief package—no Republicans did—but has said he would largely oppose using budget reconciliation again to ram through large proposals.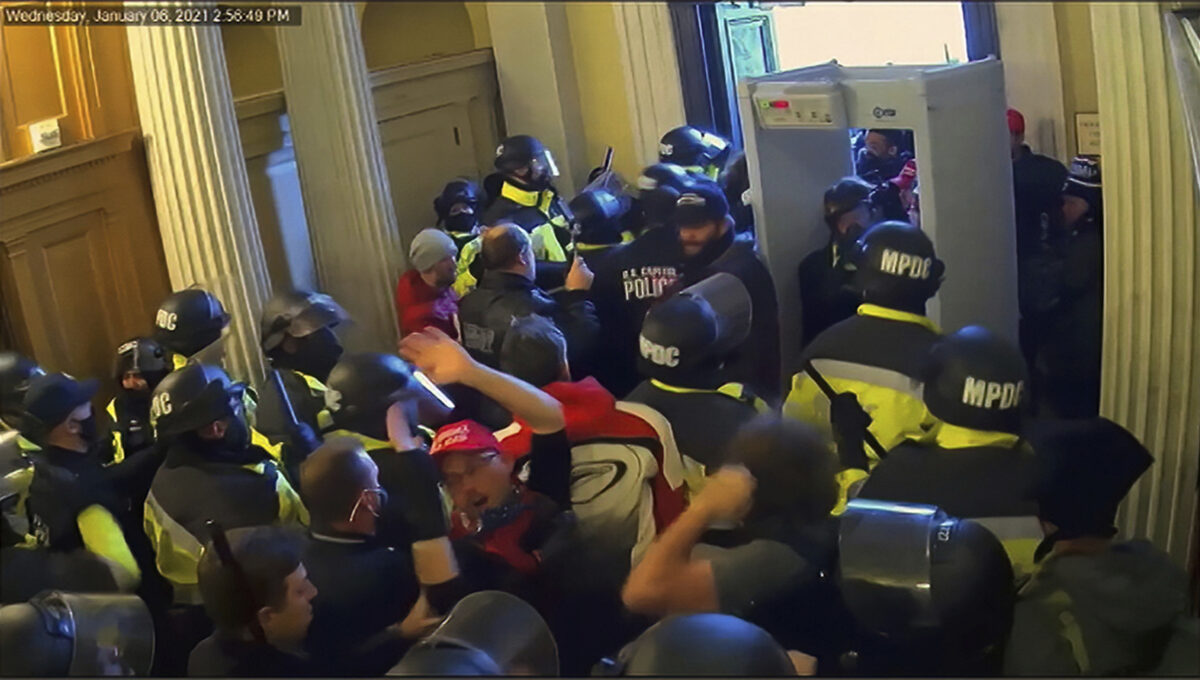 Manchin told CNN that reconciliation, which lowers the threshold in the Senate from 60 to 50 votes, "was never intended to be our main focus or our main vehicle for legislation" but that there is a "time and a place" for its use.
He also reiterated his opposition to abolishing the filibuster, which would permanently lower the voting threshold to a simple majority.
"The filibuster is a critical tool to protecting that input and our democratic form of government. That is why I have said it before and will say it again to remove any shred of doubt: There is no circumstance in which I will vote to eliminate or weaken the filibuster. The time has come to end these political games, and to usher a new era of bipartisanship where we find common ground on the major policy debates facing our nation," Manchin wrote in an op-ed this week.
Another Democrat, Sen. Kyrsten Sinema (D-Ariz.), has also defied calls from her party to ax the filibuster.
"When you have a place that's broken and not working, and many would say that's the Senate today, I don't think the solution is to erode the rules," she said in a recent interview.
Manchin, who has been in Congress since 2010 after serving as governor and secretary of state of West Virginia, told CNN that he's witnessed people with power abuse it.
"I've watched people that had power and abused it. I've watched people that sought power and destroyed themselves, and I've watched people that have a moment of time to make a difference and change things and used it—I would like to be that third," he said.