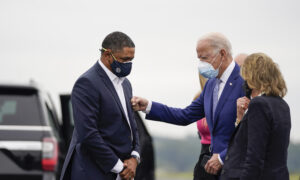 The special election to fill the Louisiana U.S. House seat vacated by Rep. Cedric Richmond (D-La.) is heading to a runoff after none of the contending Democrats secured enough votes on March 20 for an outright victory.
Sen. Troy Carter (D) will face off against state Sen. Karen Peterson (D) in April. Carter received 36 percent of the vote and Peterson received 23 percent, according to the Louisiana Department of State.
A total of at least seven Democrats and several Republicans competed for the Bayou State's 2nd Congressional District seat. Richmond left his post to serve as a White House adviser under President Joe Biden.
The 2nd Congressional District, which includes most of New Orleans, has been one of the safest Democratic districts for more than a century. From 1891 until the 1960s, Democrats kept a hold over the district through voter suppression and by disenfranchising black voters, including through poll taxes and subjective literacy tests. After regaining their franchise in the 1960s, black voters began to back Democrats. The district has been majority-black since 1984.
The only Republican to hold the seat since 1891 was Rep. Joseph Cao (R) from 2009 to 2011. Richmond defeated Cao and has served in Congress since 2011.
Before joining the White House, Richmond had endorsed Carter.
Richmond was named the co-chair of the Biden transition team in September 2020. Biden appointed Richmond to served as the director of the White House Office of Public Engagement and a senior White House adviser.
During his tenure in Congress Richmond served as the chairman of the Congressional Black Caucus from 2017 to 2019.
The Louisiana special election on Saturday also included a contest for the 5th Congressional District seat left vacant after the death of Rep.-elect Luke Letlow (R). Letlow's widow, Julia Letlow (R), won the special election with 65 percent of the vote. Letlow was endorsed by former President Donald Trump.