Louisiana's Republican Party expressed profound disappointment with Sen. Bill Cassidy (R-La.) after he and five other Republicans sided with Democrats in an early impeachment trial vote.
"The Republican Party of Louisiana is profoundly disappointed by Senator Bill Cassidy's vote on the constitutionality of the impeachment trial now underway against former president, now private citizen, Donald J. Trump. We feel that an impeachment trial of a private citizen is not only an unconstitutional act, but also an attack on the very foundation of American democracy, which will have far reaching and unforeseen consequences for our republic," the Louisiana GOP said in a statement.
Cassidy voted to call the impeachment trial of former President Donald Trump constitutional, allowing the trial to move forward. He changed his vote from last month.
Sen. John Kennedy (R-La.), Louisiana's other senator, voted Tuesday with 43 other Republicans to deem the trial unconstitutional.
"We salute Senator John Kennedy for remaining steadfast in his opposition to the fake impeachment trial now underway in Washington, D.C. Senator Kennedy has clearly made the right decision once again," the Louisiana GOP said.
Republicans who have sided with Democrats in the latest impeachment effort, including 10 members of the House, have faced blowback from their states.
Rep. Liz Cheney (R-Wyo.), for instance, was censured by the Wyoming Republican Party over the weekend for voting to impeach Trump.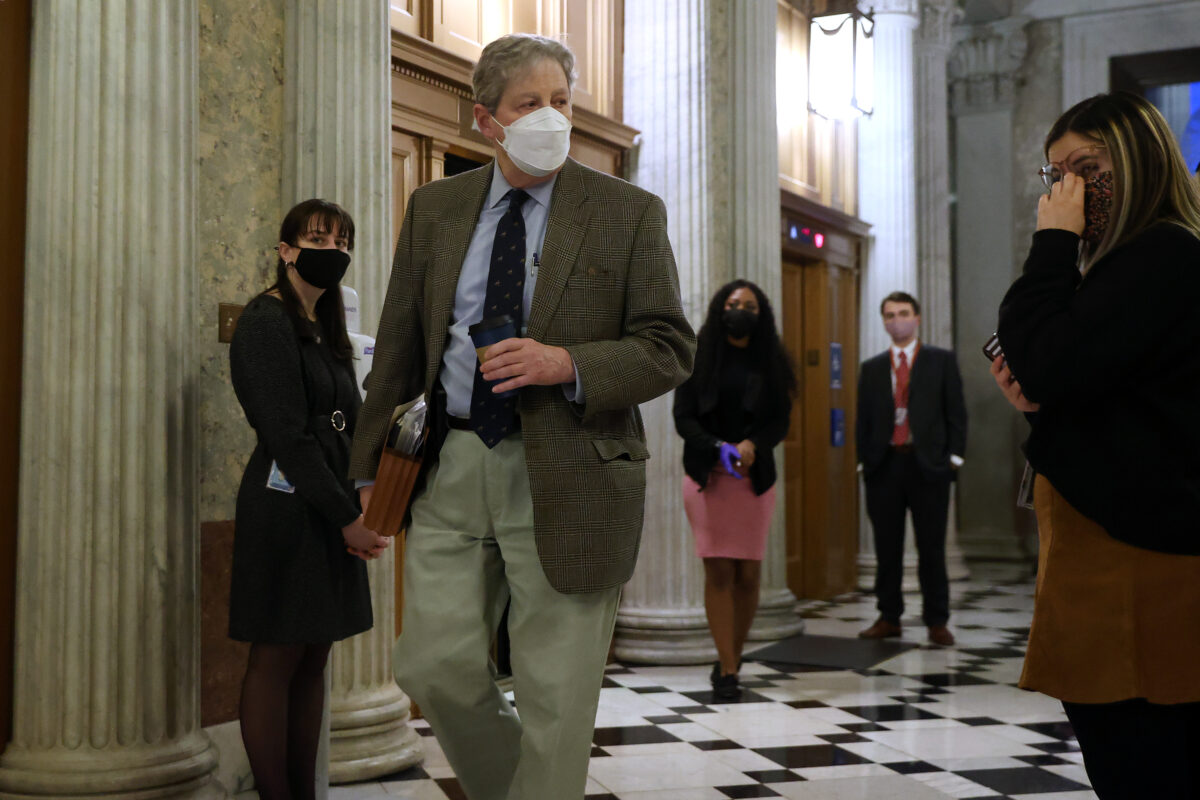 In another example, Sen. Ben Sasse (R-Neb.), who has twice now voted to call the trial constitutional, has faced mounting opposition for his anti-Trump statements and votes.
Cassidy after the vote said senators heard arguments from both sides on whether holding a trial against Trump was constitutional.
"A sufficient amount of evidence of constitutionality exists for the Senate to proceed with the trial," he said. "This vote is not a prejudgment on the final vote to convict. If anyone disagrees with my vote and would like an explanation, I ask them to listen to the arguments presented by the House managers and former President Trump's lawyers. The House managers had much stronger constitutional arguments. The president's team did not."
Kennedy didn't appear to offer a comment on his vote. In an emailed statement to The Epoch Times, Kennedy said after the previous vote: "Today, I voted to affirm that these impeachment proceedings are unconstitutional. Based on the information I have right now, I voted today and will vote again later in the impeachment trial to dismiss the impeachment proceedings against former President Trump."
"Additionally, these proceedings, in part, represent a thinly veiled effort by the uber-elites in our country, who look down on most Americans, to denigrate further those people who chose to vote for President Trump and not vote for President Biden," he added.
While Kennedy has indicated he will vote to acquit Trump, Cassidy is one of 14 Republicans who are waiting to hear the evidence presented during the trial before deciding on their vote, according to an Epoch Times tally. Nine Democrats have offered similar stances while two senators, Sens. Deb Fischer (R-Neb.) and Kyrsten Sinema (D-Ariz.), haven't outlined their thoughts on the matter.