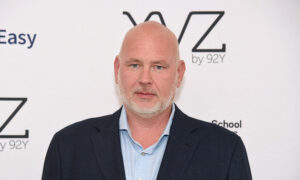 Strategist Steve Schmidt announced this week that he is registering as a Democrat.
"I spent 29 years as a Republican, I've spent two and a half as an independent, and later this afternoon I will register as a member of the Democratic Party," Schmidt said on the "Battleground" podcast. "Because in America today, it's only the Democratic Party—which is the oldest political party in the world—that stands for the ideas and ideals of American liberty."
Schmidt is one of the Republicans who left the GOP because of animus towards President Donald Trump, who became the party's most important figure when he won the 2016 election.
Last year, Schmidt founded the Lincoln Project, a political action committee that purported to include Republicans who sought to support Democratic presidential candidate Joe Biden.
According to another committee, Priorities USA, the Lincoln Project ads were not effective in convincing voters in battleground states not to vote for Trump.
"It's pretty obvious to me they were playing to the culture war, they were getting very personal with Trump, they were doing things that basically Democrats like, not that swing voters like, not that irregular voters or voters who need persuasion to come out people who are obsessed with Twitter and Facebook, who probably give to a lot of other Democratic PACs, those people liked what they were doing," political commentator Zaid Jilani said on Hill TV on Monday.
Other members include George Conway, the husband of former Trump adviser Kellyanne Conway, and former GOP strategist Rick Wilson.
Schmidt managed Sen. John McCain's (R-Ariz.) 2008 presidential campaign.
In 2018, Schmidt announced he was leaving the GOP: "29 years and nine months ago I registered to vote and became a member of The Republican Party which was founded in 1854 to oppose slavery and stand for the dignity of human life. Today I renounce my membership in the Republican Party. It is fully the party of Trump."
Schmidt said registering with the Democratic Party came after retiring Rep. Paul Mitchell of Michigan said he was becoming an independent.
Mitchell said he opposed Trump criticizing the Supreme Court and did not appreciate top Republicans participating in efforts like "Stop the Steal" rallies.
As a result, he said, he is withdrawing from the Republican Party and will henceforth be an independent.