Lara Trump, the daughter-in-law of former President Donald Trump and senior adviser to his reelection campaign, has joined Fox News as a contributor but hasn't ruled out the possibility of running for the Senate.
"I'm so excited, first of all, to be joining the Fox family," Lara Trump said during an appearance on "Fox & Friends" Monday morning.
"I sort of feel like I've been an unofficial member of the team for so long. You guys know—it was kind of a joke—over the past five years, I would come there so often that the security guards were like, 'Maybe we should just give you a key.'"
Lara Trump was formerly a television producer. She married Eric Trump in 2014, and their two children were born in 2017 and 2019.
She told co-host Steve Doocy that she is still considering running for the Senate representing North Carolina.
"Well, Fox has been very generous with me, and they have said, look, if that's something that you ultimately decide to do, they're going to work with me on that front and make sure that everything—all the rules are followed, and we do everything properly."
"So thank you to the Fox team for allowing me to have, you know, the possibility that that's in the future, so I still haven't officially made a decision. But hopefully sometime soon," she added.
Lara Trump said she grew up in Wrightsville Beach, North Carolina, and her family still lives there. She moved to New York 14 years ago, and that's when she met Eric Trump.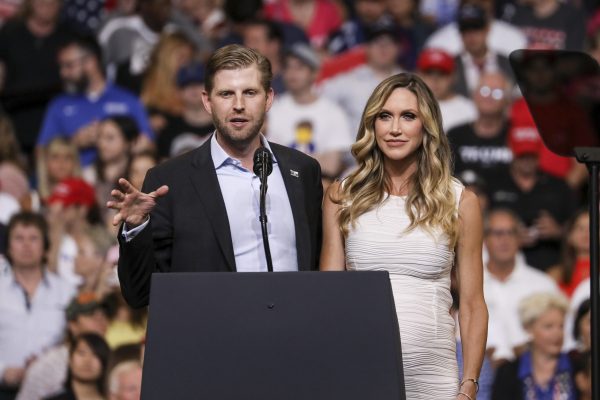 In 2016, Sen. Richard Burr (R-N.C.) said he wouldn't run for reelection in 2022. Burr voted in favor of convicting Trump in the Senate impeachment trial.
North Carolina GOP Chairman Michael Whatley told The Epoch Times that Lara Trump would be the candidate to beat if she decided to run. Many Trump insiders and pollsters share that view.
In her first official appearance on Monday, Lara Trump criticized the Biden administration's border policy as "ridiculous," "unacceptable," and "total hypocrisy."
Ivan Pentchoukov contributed to this report.