The bipartisan relief package put forth on Tuesday is a "constructive effort," a top President Donald Trump adviser said Wednesday.
"We're not going to comment on it directly. I would just say, I think it's a constructive effort, it's a good group, bipartisan group, lot of friends in that gang," National Economic Council Director Larry Kudlow told reporters outside the White House in Washington.
While the package doesn't represent the positions of the White House, Senate Majority Leader Mitch McConnell (R-Ky.), or House Speaker Nancy Pelosi (D-Calif.), "I think it moves the ball in the right direction," Kudlow added.
The Trump administration wants roughly $600 billion in money that wasn't spent from previous stimulus packages unlocked for repurposing for things like personal protective equipment, unemployment assistance, and aid to schools.
"You've got a nice package there on key targeted items that would help important sectors, help the labor market, help the economy, but not spend a fortune. To me, that's still going to be our view," he said.
A bipartisan, bicameral group on Tuesday introduced a $900 billion relief package proposal. The group included Sens. Mark Warner (D-Va.) and Mitt Romney (R-Utah).
"This is going to get us through the most difficult times. This will run up to the end of the first quarter, April 1, and we hope that we can get the relief that's needed," Sen. Joe Manchin (D-W.Va.) told a press conference in Washington.
The number on the package is smaller than most packages floated by Democrats, who don't want to go below $2.2 trillion, and the White House, which has gone up to $1.9 trillion.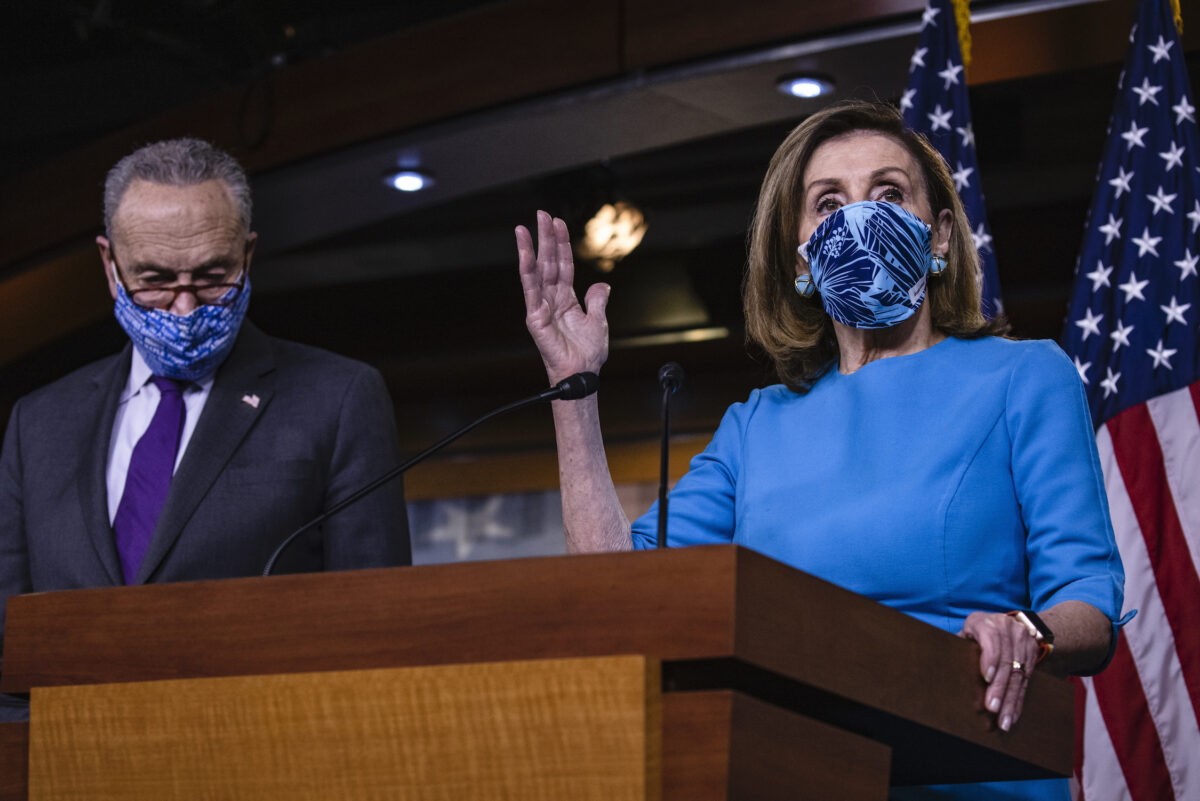 McConnell told reporters in Washington on Tuesday that he has been speaking with House Minority Leader Kevin McCarthy (R-Calif.), Treasury Secretary Steven Mnuchin, and White House chief of staff Mark Meadows on a package that Trump approves. He said he planned to gauge support within his caucus later in the day.
"I think the one thing we all agree on is that we don't have time for messaging games. We don't have time for lengthy negotiations. The issue is, do we want to get a result? And I like to remind everybody that the way you get a result, is you have to have a Presidential signature. So I felt the first thing we needed to do was to find out what the President would, in fact, sign," McConnell said.
Mnuchin, who spoke to Kudlow on Wednesday morning, had a discussion with Pelosi on Tuesday.
Senate Minority Leader Chuck Schumer (D-N.Y.), who has been working closely with Pelosi, told reporters that he and the speaker sent a proposal to McConnell on Monday "in an effort to get things moving. I'm not going to get into the details."
"It was a private proposal to help us move the ball forward. But let's make no mistake about it. I just heard Leader McConnell say he's going to put another partisan proposal on the floor. He's going to talk to McCarthy and Trump and put something on the floor," he said.
"The obvious fact of the matter is, the biggest impediment to getting an agreement is the Republican leader refusing to negotiate in a bipartisan way. He knows darn well the House is Democratic majority. He knows darn well he needs Democratic votes in the Senate to get anything done since a number of his people won't vote for any proposal and yet he continues to negotiate in a partisan way."