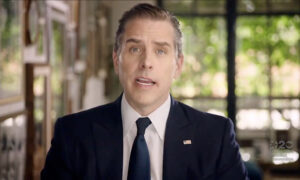 Hunter Biden, the son of President Joe Biden, confirmed that he is "cooperating completely" with federal investigators who are probing his tax affairs.
In an interview with CBS News set to air on Sunday, the younger Biden was asked about the investigation into his finances.
"I can say this: I am cooperating completely, and I'm absolutely certain—I'm 100 percent certain—that at the end of the investigation, that I will be cleared of any wrongdoing," Hunter Biden said. "All I can do is cooperate and trust in the process," he added.
Last December, it was revealed the federal prosecutors in Delaware were investigating the younger Biden's finances.
"I learned yesterday for the first time that the U.S. Attorney's Office in Delaware advised my legal counsel, also yesterday, that they are investigating my tax affairs," Biden said in a statement at the time. "I take this matter very seriously, but I am confident that a professional and objective review of these matters will demonstrate that I handled my affairs legally and appropriately, including with the benefit of professional tax advisers," he added.
President Biden echoed the statement, saying he supports his son.
Hunter Biden became the subject of the 2020 election after the New York Post reported on his overseas business dealings in Ukraine and China. A former associate, Tony Bobulinski, then came forward about an alleged business venture between him, Hunter Biden, the president's brother Jim Biden, and CEFC China Energy, a conglomerate with deep ties to the ruling Chinese Communist Party (CCP), and strongly suggested that the firm engaged Hunter Biden to gain access to his powerful father and connections.
Following the publication of the NY Post's story, Twitter moved to ban the sharing of links to the article, and a Facebook spokesman told news outlets that it limited the NY Post's reach. The move spurred on accusations of unfair treatment and censorship.
Hunter Biden, meanwhile, sat on the board of a Ukrainian gas firm, Burisma Holdings—which is subject to a corruption investigation in Ukraine—for a reportedly lucrative monthly salary. Republicans and former President Donald Trump accused Biden of knowing about Hunter Biden's role at the company, citing Biden's public statements about getting a Ukrainian prosecutor who was investigating Burisma, Viktor Shokin, fired. However, Trump became the subject of a House Democratic-led impeachment effort that alleged the former president engaged in a quid pro quo scheme after it was revealed he asked Ukraine's president to "look into" the matter.
President Biden has denied that he knew about his son's business dealings in both Ukraine and China. Biden also said that his work in Ukraine when he was vice president under the Obama administration was related to rooting out corruption that has long plagued the country.
The younger Biden, meanwhile, has long denied any wrongdoings in his overseas business dealings.
"Did I make a mistake? Maybe in the grand scheme of things," Hunter Biden said in an ABC News interview in 2019. "But did I make a mistake based on some ethical lapse? Absolutely not."