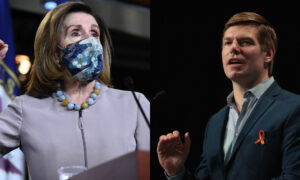 Several House Republican leaders signed a letter demanding House Speaker Nancy Pelosi (D-Calif.) remove Rep. Eric Swalwell (D-Calif.) from the House Intelligence Committee after a report found he was targeted by a suspected Chinese Communist Party (CCP) spy.
"We write to you today out of concern with Congressman Eric Swalwell's reported, close contacts with a Chinese Communist Party spy recently reported by Axios. Because of Rep. Swalwell's position on the House Permanent Select Committee on Intelligence [HPSCI], his close interactions with Chinese intelligence services, however unintentional they may be, are an unacceptable national security risk," the Republicans told Pelosi.
The Republicans—including Reps. Liz Cheney (R-Wyo.), Steve Scalise (R-La.), Jody Hice (R-Ga.), Jim Banks (R-Ind.) and Chip Roy (R-Texas)—noted that the House Intelligence Committee "handles some of the most sensitive information our government possesses—information critical to our national defense." Scalise is the House minority whip, and Cheney is the House Republican conference chair, the third-highest position in GOP House leadership.
"As such," they added, "we urge you to immediately remove Rep. Swalwell from his position on the House Intelligence Committee," according to the Washington Examiner.
They noted that in 2017, Pelosi called on then-Attorney General Jeff Sessions to recuse himself from looking into the Trump-Russia investigation. She also said he needed to resign. Former special counsel Robert Mueller found that Russia and Trump's campaign did not collude with one another during the 2016 election.
"Attorney General Sessions has never had the credibility to oversee the FBI investigation of senior Trump officials' ties to the Russians," Pelosi wrote in March 2017.
The Republicans said in their letter that Sessions, a former Republican senator from Alabama, then "chose to recuse himself from Robert Mueller's fruitless, unsubstantiated investigation into the Trump campaign. By your own standards, Congressman Swalwell is unfit to serve on the Intelligence Committee."
The Axios report said the CCP spy, known as Christine "Fang" Fang, built relationships with Swalwell and several other politicians.
Several days ago, two Republicans, in a separate letter (pdf) to FBI Director Chris Wray, sought a briefing from the law enforcement agency. They noted that "Fang Fang gained influence through campaigning, fundraising, and cultivating romantic relationships with elected officials and their staff. This allowed her to learn these officials' habits, schedules, and preferences, potentially to share this information with the [Chinese Ministry of Security]."
Swalwell told CNN last week that he didn't do anything wrong.
"I was told about this individual and I offered to help," he told CNN. "All I did was cooperate and the FBI said that yesterday." Swalwell then accused Republicans of trying to weaponize the Axios report.
But the House Republican leaders said that Swalwell didn't reveal that information for five years.
"Rep. Swalwell withheld information for five years from the House Intelligence Committee about an ongoing Chinese espionage operation targeted at him and his own colleagues," the House Republicans told Pelosi. "Obviously, Rep. Swalwell's interactions with a Chinese spy were more dangerous and unusual than AG Sessions's meetings with a Russian diplomat. But to make matters worse, Rep. Swalwell kept this information to himself while repeatedly using his position on HPSCI to peddle damaging and baseless conspiracies about President Donald Trump's unproven ties to Russia for years and still refuses to comment fully on the extent and nature of his relationship with the Chinese Communist Party spy exposed in Axios's bombshell report."
Pelosi's office has not responded to a request for comment. The Epoch Times reached out to Swalwell's office for comment after the Axios report was published.