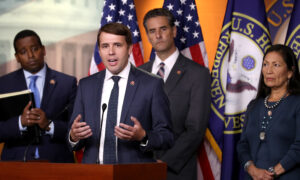 A growing number of Democrat members of Congress are criticizing their party's efforts to overturn a U.S. House of Representatives election that was already certified by the state of Iowa.
Rep. Mariannette Miller-Meeks (R-Iowa) was declared the winner of the 2020 election by six votes and was sworn in on Jan. 3.
But Rita Hart, the Democrat candidate for the seat, alleges she is the true winner, and appealed to a House panel to overturn the certified results.
The panel declined to dismiss the election challenge last month, and House Speaker Nancy Pelosi (D-Calif.) has said the Democrat-controlled House could unseat Miller-Meeks and replace her with Hart.
Rep. Dean Phillips (D-Minn.) on Monday was the first Democrat to decry the potential reversal, followed by several other party members, who pointed out that Democrats were against reversing certified results when it came to the presidential election.
"This election result was certified by the State of Iowa and Rep. Miller-Meeks was sworn in nearly three months ago," Rep. Chris Pappas (D-N.H.) told Fox News. "As I said when Republicans challenged the Electoral College votes on January 6th, the election is over and it's time to move on."
"As I have said before in connection with the 2020 presidential election, legislators should be heeding states' certifications of their elections, and unless there is rampant error and substantial evidence thereof, I do not believe it is the role of House members to dictate the outcome of elections," added Rep. Susan Wild (D-Pa.) to The Washington Post.
Democrats hold a slim eight seat majority in the lower chamber. If the House Administration Committee ends up declaring Hart the winner, the full House would need to vote on the matter.
Moderate Republicans are also voicing their dismay.
Nine of the 10 House Republicans who voted to impeach former President Donald Trump wrote to Pelosi in a recent letter, urging her to stop the progress towards reversing the Iowa election results.
"This action not only sets a dangerous precedent for future elections, it reinforces the false belief by many in our country that our election system is rigged and that certain politicians can change results to fit their whims," the group, which includes Reps. Liz Cheney (R-Wyo.) and Adam Kinzinger (R-Ill.), said.
Senate Republican Leader Mitch McConnell (R-Ky.) weighed in during a podcast released on Tuesday, telling the host that Democrats "were preaching that in November and December that state certification was sacrosanct."
"I guess it's sacrosanct except when it isn't," McConnell added. "Every time I don't think they can't reach a new low, they do. They seem to be on the cusp of setting aside a certified winner—admittedly, it was a close election—and seating the Democrat instead. That's where they seem to be headed."