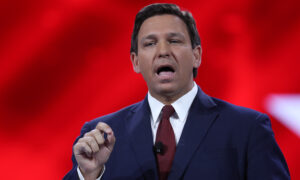 Florida Gov. Ron DeSantis criticized the Centers for Disease Control and Prevention (CDC) for announcing on Wednesday that a no-sail order on cruise ships would remain in place until Nov. 1.
On Friday, the Governor sat down with Florida officials in a roundtable to discuss the importance of the industry, calling the order "baseless."
During the meeting, DeSantis asked the CDC to reverse the no-sail order that has been in place since March 14, 2020.
"If there is one thing we've learned over the past year, it's that lockdowns don't work, and Floridians deserve the right to earn a living," said DeSantis. "The cruise industry is essential to our state's economy and keeping it shut down until November would be devastating to the men and women who rely on the cruise lines to provide for themselves and their families. I urge the CDC to immediately rescind this baseless no-sail order to allow Floridians in this industry to get back to work."
The governor also recommended that Florida seaports receive $258.2 million from federal funds for "Promoting Economic Development and Recovery" for the lucrative industry.
Due to the cruise industry shutdown, losses in Florida totaled $3.2 billion in economic activity, including $2.3 billion lost wages and 49,500 jobs, according to a statement from the governor.
Vaccine Requirement
Earlier this month, Virgin Voyages, the cruise line founded by billionaire business magnate Richard Branson, announced that they will require all crew and passengers to get a CCP (Chinese Communist Party) virus vaccine.
The CEO of Virgin Voyages, Tom McAlpin, said in a statement emailed to The Epoch Times that the company's goal is to provide "the safest travel experience, which means vaccinations for both our crew and passengers."
"We know that the future is vaccinations and testing," McAlpin said, and that's why Virgin Voyages is "committed to fully vaccinated cruises," he added.
The Virgin Voyages chief also said the company is "really encouraged" by the Biden administration's latest vaccine rollout plans "in the May time frame."
Another company, the Royal Caribbean International along with its subsidiary, Celebrity Cruises, announced also last week that passengers who travel aboard their cruises will have to be vaccinated for the CCP virus.
Royal Caribbean will provide cruises to the Bahamas and Mexico in June, the company said.
"Travelers looking ahead to their summer vacations can book their roundtrip cruise as soon as Wednesday, March 24 and set sail starting June 12. The new itineraries departing through August, which will sail with vaccinated crew, will be available to adult guests who are fully vaccinated against COVID-19," the cruise operator said in a statement.
Passengers who are under the age of 18 have to test negative for the CCP virus, the release added.
Tom Ozimek and Jack Phillips contributed to this report.