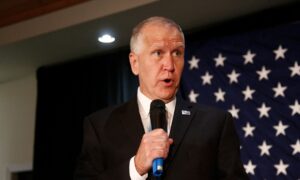 Sen. Thom Tillis (R-N.C.), who won his reelection campaign last year, said he was diagnosed with prostate cancer and will undergo surgery but said he is expected to fully recover.
"I am blessed that my cancer was detected relatively early, and I can't emphasize enough how important routine screenings are, regardless of how healthy you think you are," Tillis said in a statement on Monday. He added that doctors said he's expected to make "a full recovery" because the cancer was found "relatively early."
Tillis, 60, emphasized annual checkups, saying that if he didn't go to his, the prostate cancer would not have been detected early.
"My prognosis is good because I went to my annual physical and received a PSA test, which led to a biopsy and, eventually, my diagnosis. Early detection can truly save lives," he said in the statement.
Tillis did not elaborate on the specifics of the surgery or when it would occur.
In November, Tillis was elected to a second term after defeating Democratic challenger Cal Cunningham. Before he was elected to the Senate, he was the speaker of North Carolina's House of Representatives.
Rep. Richard Hudson (R-N.C.) released a statement after Tillis' announcement, calling for recommendations to get screened.
"Renee and I are thankful Senator Tillis caught his cancer early and are praying for a quick and full recovery," Hudson said Monday. "As a strong advocate for cancer screenings, I join with Sen. Tillis in encouraging everyone to follow cancer screening recommendations that help save lives every day."
Tillis, meanwhile, traveled to the U.S.-Mexico border last week with a group of more than a dozen Republican senators.
The full Senate won't convene again until mid-April. It's not clear if Tillis will miss any days or votes in the Senate.
According to the American Cancer Society, prostate cancer is one of the most common forms of cancer, and about 60 percent of cases are men over the age of 65, although the cancer is rare for males under 40.