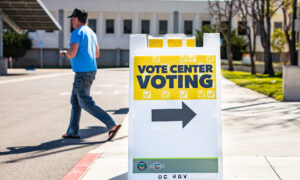 The Republican National Committee (RNC) and National Republican Senatorial Committee's (NRSC) are beginning ad campaigns this week and early next week to have their say on the Democrats' election reform bill S.1, which they are calling a "power grab."
The RNC has designated a six-figure sum to an ad campaign that will run in states with Democrat-held Senate seats that are up for reelection in 2022, including Arizona, Georgia, Nevada, and New Hampshire. Senate Republicans' key fundraising arm, the NRSC, will devote seven figures to ad campaigns in the same states to tell their view of the S. 1 senate bill.
The Republican campaign blitz comes after the majority-Democrat House passed the Democrat's election reform bill H.R. 1, which they called the For the People Act, in early March.
Some provisions, like ensuring that all voting machines used in U.S. elections are manufactured in the United States and increasing access for voters with disabilities, are supported by both parties. But most other provisions in the partisan bill are highly contentious.
The package is celebrated by Democrats as an effort to expand "voting rights," while Republicans say the bill is an overreach of federal authority over state's rights and an attempt by Democrats to gain ultimate control over all future elections.
After the 2020 presidential elections, irregularities were witnessed with unlawful changes to voting procedures in many key states made in the name of ensuring voter access during the pandemic. To counter the issues that arose, many states have since introduced election reform bills to require things like voter ID and limits on when mail-in ballots can be returned.
Republican-majority Georgia is one of the states that has recently signed such election reforms into law. The 95-page law adds a slew of changes to the way Georgians will vote, including requiring photo or state-approved identification to vote absentee by mail. The law also mandates that secure drop boxes be placed inside early voting locations, with constant surveillance, while addressing Democrat concerns by expanding early voting across the state.
Democrats have criticized Georgia for most of these voting reforms, calling it an attempt by Republicans to suppress votes.
Newly elected U.S. senator from Georgia, Raphael Warnock (D-Ga.), said from the Senate floor in mid-March that his state legislatures' efforts to change voting rules is a new version of "Jim Crow laws."
"Since the January election, some 250 voter suppression bills have been introduced by state legislatures, all across the country from Georgia to Arizona, from New Hampshire to Florida," Warnock said. "Using the big lie, voter fraud as a pretext for voter suppression."
Sen. Jeff Merkley (D-Ore.), a lead sponsor of H.R. 1, called the Republican-led efforts "anti-democratic."
"There's an explosion of Republican activity, governors, and legislatures across the country, working to pass bills to keep people from voting," Merkley said. "To me, this is entirely anti-democratic."
The Republican ads will present a counter to Warnock's "voter supression" narrative, saying that Republicans are working to secure expanded voting right but with rules to secure fairness of one person, one vote.
"Democrats are peddling a false narrative in order to dismantle our elections processes, and the Georgia election reforms expose that lie because the bill actually EXPANDS voting opportunities," RNC Chairwoman Ronna McDaniel said in a March 25 press statement.
In one of the NRSC-funded ads titled "Power Grab," which has aired in Georgia, a female narrator says, "The Washington power grab. You've seen it before. But Democrats are planning the biggest one yet. Pelosi Schumer and Warnock want to use your tax dollars to fund their political ads, and they let people register and vote without showing any form of ID. It's political corruption. Stop the grab. Stop the fraud. Stop the Warnock-Pelosi plan now."
Chairman of the NRSC, Sen. Rick Scott, said in a March 29 memo, "Any time you hear a Democrat talking about voter suppression and racist Republican election reforms, you are hearing a person lie."
Meanwhile, Fox News reported that the Republican add campaign will target specific aspects of the Democrat's federal alternative in the For the People Act, including messages like, "Stop Ballot Trafficking—Radical Democrats are trying to take over our elections! Fight back," "Democrats want to spend your tax dollars to fund liberal candidates' elections. We can't let this happen! Stop them," and "Stop H.R. 1 – Democrats are trying to use your hard-earned money to elect radical liberals. Take action."
The fate of the Democrat's S. 1 will be decided over April and May, Sen. Amy Klobuchar, Chair of the Senate Rules Committee, told MSNBC on March 25. She said her committee will markup the bill in April after which it will move to the senate floor for consideration.
"Of course, we have nine bipartisan provisions in there, we do try to build support, but barring that, we already have Senator Manchin, talking about the fact that was some version of this bill or any bill, he's willing to move to a talking filibuster," Klobuchar said.
In a talking filibuster, Republicans be able to debate the bill and voice their objections. If Democrats cannot get 10 Republicans to support S. 1, they have indicated that they are open to eliminating the filibuster requirement in hopes of passing the election reform bill with 50 votes and a tie-breaking vote from Vice President Kamala Harris.
However, Manchin (D. W.Va), a moderate Democrat who is open to working with Republicans on passing bipartisan legislation and was the only senator in his party not to co-sponsored the legislation, will hold significant sway over what the leading Democrats pushing the bill will be able to include.
So far, he has been critical of the Democrat bill, saying that many of the provisions included "might divide us even further on a partisan basis" and do not have broad bipartisan support. He suggested on March 24 that bill could get Republican support if all the provisions were focused only on voting rights—specifically on making voting more secure and accessible.
Currently, it ends a state's right to ask for voter ID, which Sen. Roger Wicker (R-Miss.) argued was not about race but was a "sensible requirement" that Americans already have to show for common activities every day.