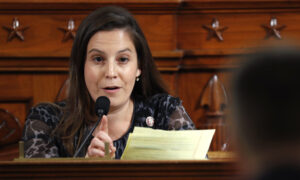 Reps.-elect Nancy Mace (R-S.C.) and Nicole Malliotakis (R-N.Y.) said that they believe that Republicans picked up more House seats because the GOP leadership improved its recruiting efforts to include women and minorities.
"One of the reasons why you saw so many women take office on the Republican side was because of the efforts of leader Kevin McCarthy, because of people like Elisa Stefanik, Liz Cheney, Steve Scalise who went out there and recruited qualified women who have something to share with the American people, and who have the experience in the background to be productive participants in the legislative process," Malliotakis told CNN.
Rep. Elise Stefanik (R-N.Y) served as recruitment chair for the GOP initiative to help more Republican women get elected in the Nov. 3 election.
"This is what I've always known about the GOP, that we are a big tent party that we do have people that come from different places from around the world. We do incorporate women and now we're seeing women having a seat at the table," added Malliotakis.
"When you look back in our nation's history, the first female member of Congress was a Republican woman, Jeanette Rankin in 1917, and we've come such a long way from that I think it's upon people like Nancy and I to now pay it forward to recruit other women," said Malliotakis.
"I believe the Republican Party has finally come around, look at our freshman class right now and we really reflect the faces of America, the diversity and the inclusion that we have in the Republican Party, that is our future," Mace said.
She said it's important to recruit women, minorities, and women veterans. "Then we're going to lose in the future and I think it's really important that our values of freedom and entrepreneurship can speak to folks all across the country from all walks of life," she added.
Malliotakis said she was motivated to run for Congress to counter the socialist policies being forwarded by the Democratic Party.
"One of the reasons why we were so motivated to run is seeing the democratic women being elected in 2018 that don't necessarily reflect our values, particularly those who are self-described socialist. For somebody like me, daughter of a Cuban refugee, I want to be there to be a part of the discussion in the debate and provide a counter view," said Malliotakis.
Malliotakis's district covers parts of New York's Brooklyn and Staten Island, which she says represents people who have traditional American values, and who are not happy with the values that Rep. Alexandria Ocasio-Cortez (D-N.Y.), a self-described Democratic-socialist, is promulgating.