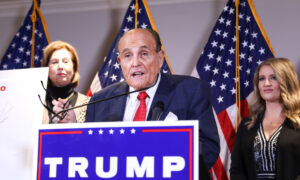 President Donald Trump's lawyer Rudy Giuliani said the team will be using a different strategy and will focus more on voting machines that were used during the Nov. 3 general election.
Giuliani, who the president's personal attorney has spearheaded the team's efforts, told "War Room" with Steve Bannon about their strategy shift.
"We met pretty much on and off all day yesterday, and starting this morning, there's a completely different strategy," Giuliani told Bannon, who was one of Trump's 2016 campaign managers and a White House strategist.
"The strategy is going to focus a great deal on some evidence we have about some of these machines that could throw off these states in a matter of maybe a one- or two-day audit," he remarked.
Elsewhere in the interview, the former New York City mayor said that Arizona Gov. Doug Ducey and Georgia Gov. Brian Kemp were involved in an alleged cover-up in their respective states. The Trump team, he added, wants to audit voting machines in Pennsylvania, Arizona, Georgia, and Michigan.
"I think we can get these accomplished despite the resistance and the cover-up of the Republican governors, the guy in Arizona and the guy in Georgia—if we had their cooperation, we could have it ended by Monday," Giuliani told Bannon. "I'm tired of dealing with them. We just push them aside, and I think over the weekend, you'll see different strategies being employed."
When pressed further, Giuliani suggested the voting machines needed to be audited.
"They don't contain medical information," Giuliani said of the machines. "They don't contain illegal information. We don't get to see who you vote for. It's public information; [it] doesn't even belong to you. The only reason you would be resisting our examining those machines is because you know you did something crooked."
He added, "Give us eight hours, and we'll show you how many false votes were in this machine and how it was used to manipulate the vote," noting that the president could "get a warrant to search all of the machines."
The manufacturer of some voting machines used in the election, Dominion Voting Systems, has denied that its machines can switch votes.
"Dominion is not and has never been a front for communists," CEO John Poulos told a Michigan State Legislative hearing last week. "It has no ties to Hugo Chavez, the late dictator of Venezuela. We have never been involved in Venezuelan elections. Its machines have never been used in Venezuela."
Poulos also reiterated that the machines cannot change votes from one candidate to another, although a group that performed a forensic audit of Dominion machines in Michigan's Antrim County suggested otherwise in a Dec. 14 report.
Dominion, via a law firm, also sent a letter to lawyer Sidney Powell to retract comments she made about the company in press conferences and media appearances, suggesting that the firm may sue her for defamation. Powell has not responded to a request for comment.