Georgia's secretary of state has announced he has again determined the 2020 election results in favor of Democrat Joe Biden following two recounts without signature verifications—one of the main points of contention from the Trump campaign.
Secretary of State Brad Raffensperger on Dec. 7 announced his affirmation for Biden's victory.
"[T]he Secretary of State affirmed that all 159 counties have provided to the state the total votes tabulated for presidential candidates in the November 3, 2020 presidential election. Further, the Secretary of State affirms that the statewide consolidated returns for the presidential election are a true and correct tabulation of the certified returns received by this office from each county," read the announcement.
Raffensperger's affirmation of Georgia's results has yet to be followed up by Gov. Brian Kemp, a Republican, who previously stated state law requires his office to formalize the certification.
According to unofficial results from the state's website, of almost 5 million votes cast, Biden received 12,670 more than President Donald Trump.
A risk-limiting audit—or hand recount—turned up thousands of uncounted votes in four counties, prompting officials to issue recertifications. According to Fox News, Trump's vote share increased by 888 in that recount.
The numbers did not change in the subsequent recount, which was requested by the Trump Campaign given the less than 0.5 percent margin with Biden. That recount, however, did not include the signature audit that the campaign has insisted is essential for a meaningful recount.
The totals in Georgia now stand at 2,474,507 for former Vice President Biden and 2,461,837 votes for President Trump. Libertarian Jo Jorgensen received 62,138 votes.
The Trump campaign has repeatedly called for a more complete audit of Georgia votes, saying that without signature matching, any recount would include fraudulent mail-in ballots. Several Republican state senators have also called for an audit of signatures for absentee ballots in the state.
Georgia Gov. Brian Kemp recently said he called on Raffensperger to order a signature audit. He said on Dec. 3 on Fox News' "The Ingraham Angle" that he thinks a signature audit should be done. "Obviously, the Secretary of State, per the laws and the [state] constitution, would have to order that and he has not done that," he said.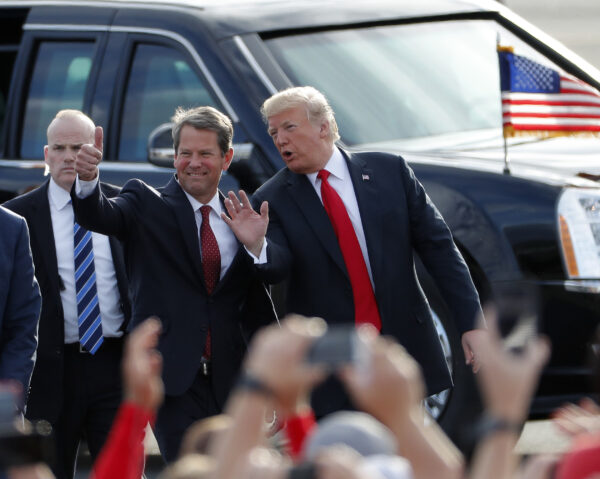 Trump on Dec. 6 said on Twitter that he would "easily & quickly" win if Kemp or Raffensperger "permit a simple signature verification."
"Has not been done and will show large scale discrepancies. Why are these two 'Republicans' saying no? If we win Georgia, everything else falls in place!" the president added.
"As I told the President this morning, I've publicly called for a signature audit three times (11/20, 11/24, 12/3) to restore confidence in our election process and to ensure that only legal votes are counted in Georgia," Kemp wrote in response.
The president followed up, saying, "But you never got the signature verification! Your people are refusing to do what you ask. What are they hiding? At least immediately ask for a Special Session of the Legislature. That you can easily, and immediately, do."
Lt. Gov. Geoff Duncan then said that Kemp had rejected Trump's call. He's "not going to call us into a special session … We're certainly not going to move the goal posts at this point in the election. We are going to continue to follow the letter of the law," Duncan told CNN on Sunday.
Separately in Georgia, attorney Sidney Powell signaled that she will appeal against a decision by a district court judge to dismiss a lawsuit she filed in November that outlines 30 allegations of electoral fraud and other voting irregularities in the Nov. 3 general election in the state.
The legal team "will proceed as fast as possible to the Supreme Court," Powell told The Epoch Times in an email.
U.S. District Court Judge Timothy Batten dismissed the lawsuit, opining that the plaintiffs had no standing to sue because they should have brought the lawsuit to a state court and had filed the case too late.
"There's no question that Georgia has a statute that explicitly directs that elections contests be filed in Georgia Superior Court," Batten, an appointee of President George Bush, said in explaining his decision following an hour of oral arguments in court. "They are state elections. State courts should evaluate these proceedings from start to finish."
Lawyers for the Trump campaign have increasingly called on state legislators to consider their role as final arbiters of the electoral college. They say that regardless of state laws or certifications, the legislature still has the sole power to select presidential electors.
Ivan Pentchoukov contributed to this report.