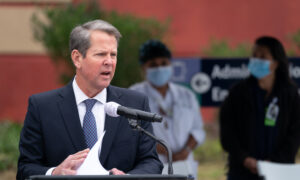 ATLANTA—Georgia Gov. Brian Kemp on Saturday denounced Major League Baseball's (MLB) decision to move its All-Star Game out of Atlanta, saying it's a product of "cancel culture."
"Yesterday, Major League Baseball caved to fear and lies from liberal activists," Kemp said during a press conference. "They ignored the facts of our new Election Integrity Law and they ignored the consequences of their decision on our local community. In the middle of a pandemic, Major League Baseball put the wishes of Stacey Abrams and Joe Biden ahead of the economic wellbeing of hard-working Georgians who were counting on the All-Star Game for a paycheck."
MLB announced the relocation of the All-Star Game and draft on Friday saying the league doesn't agree with the new election law in Georgia which requires a photo or state-approved identification to vote absentee by mail.
The league didn't specify where it planned to relocate.
Kemp warned Americans that cancel culture is spreading unchecked.
"Georgians and all Americans should know what this decision means. It means cancel culture and partisan activists are coming for your business. They're coming for your game or event in your hometown," he said.
Kemp stood by the election integrity law, saying that a fair election is worth the threats and lawsuits and that he will not back down.
"Free and fair elections are the foundation of who we are as a state and a nation. Secure, accessible, fair elections are worth the threats," he said. "I will not be backing down from this fight and neither are the people who are here with me today."
Kemp praised the new election law for expanding "access to voting" for the Georgia voters.
Dozens of Republicans gathered at the State Capitol to support Kemp, including Georgia General Attorney Chris Carr, congress members, and State officials.
Carr echoed Kemp on the importance of the new election law.
"Anybody who actually reads this bill quickly sees that it strengthens security, expands access, and improves transparency in Georgia's elections," he said.
Georgia Republican Party Chairman Dave Shafer, State Sen. Marty Harbin, and Former Chairman of Cobb County Jason Shepherd also expressed support for the election law.