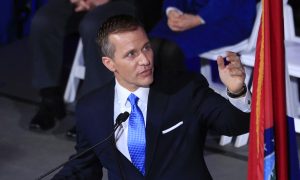 Former Missouri GOP Gov. Eric Greitens on Monday announced his candidacy for the U.S. Senate seat held by the retiring Sen. Roy Blunt (R-Mo.).
"I have been so encouraged by the people of Missouri that I am happy to announce tonight that I am running for the United States Senate to continue serving the people of Missouri," Greitens told Fox News.
Greitens ended his gubernatorial term early amid an impeachment proceeding against him in 2018. At the time, he was facing invasion of privacy charges based on allegations from a woman with whom he admitted to having an extramarital affair. Greitens was also charged with a felony for tampering with a computer and improperly taking email and donor lists from The Mission Continues.
All charges against the former governor were dropped after his resignation. St. Louis Circuit Attorney Kim Gardner was subsequently under criminal investigation for her office's conduct of the Greitens investigation and prosecution.
"I was honored to serve the people of Missouri as their governor. We took on the establishment. We killed the politicians' pay raise. We ended a corrupt tax credit program. And when Antifa came to Missouri, we stood side-by-side with our police officers and we were able to restore law and order and defeat Antifa," Greitens said.
"And I think that now the people of Missouri need a fighter in the United States Senate. They need someone who is going to go, as I will, I am committed to defending President Trump's America First policies and also to protecting the people of Missouri from Joe Biden, Nancy Pelosi and Chuck Schumer's radical left agenda."
Greitens announced his bid for the U.S. Senate in Missouri on the same day Rep. Mo Brooks (R-Ala.) launched a campaign for the U.S. Senate in Alabama. Both Greitens and Brooks are vocal supporters of former President Donald Trump. The former commander-in-chief has not made an endorsement in either race. An advisor to Trump told The Epoch Times that he is leaning toward endorsing Brooks in the Alabama race.
Missouri Attorney General Eric Schmitt (R) is also expected to announce a bid for the U.S. Senate. Rik Combs, a retired Air Force officer and Libertarian nominee for Missouri Governor in 2020, has already launched a campaign.