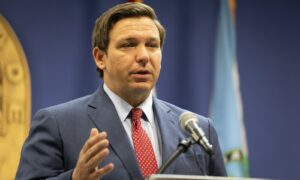 Republican Gov. Ron DeSantis is pushing back against a report about a potential CCP Virus related domestic travel restriction for Floridians, calling the idea "unconstitutional."
"And I think it's an absurd report that they would be doing that. I think it would be unconstitutional, it would be unwise and it would be unjust," DeSantis said at a press conference on Thursday.
The Miami Herald reported Wednesday that the Biden administration is considering whether to impose domestic travel restrictions, including on Florida, to stem the spread of the UK variant.
The Center for Disease Control (CDC) says it is monitoring the UK variant, known as B.1.1.7, which has recently surged in Florida and California, where over a third of all cases in the United States have been identified.
Meanwhile, DeSantis said he is unclear why the Biden administration would target Florida for travel restriction given the pandemic is far worse in other states and the southern border permits illegal immigrants.
"And if you think about it, restricting the right of Americans to travel freely throughout our country while allowing illegal aliens to pour across the southern border unmolested would be a ridiculous, but very damaging, farce," he continued.
DeSantis told reporters that he will oppose any travel restrictions, because Florida is doing better than many other states to contain the virus, with the death rates lower and the rate of vaccinations.
"So we will oppose it 100 percent," DeSantis said. "It would not be based in science. It would purely be a political attack against the people of Florida, and it's unclear why they would even try talking about that."
After DeSantis's press briefing, White House press secretary Jen Psaki addressed the idea of the reported domestic travel restrictions at her daily briefing on Thursday.
"We are always considering what steps are necessary to keep the American people safe, but we are not currently in the process of… no decisions have been made around additional public health measures that would delay—or would change, I should say—domestic travel considerations," Psaki said.
Sen. Marco Rubio (R-Fla.) on Wednesday wrote a letter to President Joe Biden amid the reports of travel restrictions.
"Instituting a travel ban, or any restriction of movement between the states would be an outrageous, authoritarian move that has no basis in law or science.  Instead, it would only serve to inflict severe and devastating economic pain on an already damaged economy," Rubio wrote.
Rubio called any travel restriction between states draconian and urged Biden to instead help citizens get access to the vaccine.
"Instead of dictating where Americans can, or cannot travel, your administration should instead focus on increasing supply and availability of vaccines, especially to Florida, the third most populous state and a winter retreat," Rubio added.