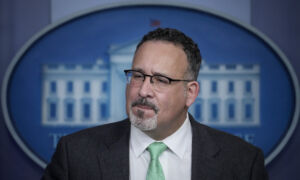 The Department of Education announced on Monday it will recancel more than 41,000 student loans issued during the pandemic to disabled individuals who didn't submit the required paperwork to track their income.
"Borrowers with total and permanent disabilities should focus on their well-being, not put their health on the line to submit earnings information during the COVID-19 emergency," Education Secretary Miguel Cardona said in a statement. "Waiving these requirements will ensure no borrower who is totally and permanently disabled risks having to repay their loans simply because they could not submit paperwork."
The Total and Permanent Disability (TPD) discharge program relieves loans for students who have been totally and permanently disabled for five or more years, or will be for five or more years, in a way that negatively impacts their earnings from employment. The program was first offered in July 2013.
Borrowers who have their loans canceled are subject to a three-year monitoring period. During this time, they must provide their earnings information to the department. If their earnings exceed a certain amount and they don't meet other criteria to waive the loan, their loan will be reinstated.
More than 41,000 borrowers who had $1.3 billion in loans reinstated will have their loans waived again as well as any loan payments made during the pandemic refunded, the department said.
The statement pointed out that 98 percent of reinstated loans occurred because borrowers did not submit the requested documentation, not because their earnings were too high, according to a 2016 report (pdf) by the Government Accountability Office (GAO).
Another 190,000 borrowers who remain in their monitoring period will have their paperwork requirements waived for the rest of the COVID-19 emergency period.
The change is retroactive to March 13, 2020, when the COVID-19 national emergency started.
"Today's announcement is part of the Biden-Harris administration's continued efforts to ensure student loan borrowers receive support and protection during the COVID-19 emergency," the statement continued. "This includes pausing interest, payments, and collection activity on the vast majority of federal student loans through at least Sept. 30, 2021."
The National Consumer Law Center (NCLC), a nonprofit organization headquartered in Boston, said the Education Department's move was not good enough.
"Today's announcement is not cause for celebration but rather for outrage that the department revoked these borrowers' discharges in the first place," Persis Yu, NCLC Student Loan Borrower Assistance project director, said in a statement. "We urge the department to take bold steps towards systemic reform. At a minimum, the Department should provide automatic relief to the 400,000 borrowers known to qualify for a disability discharge."
Less than two weeks ago, the department declared it would be canceling $1 billion in student loans for borrowers claiming they didn't receive the kind of college education they were promised.
GQ Pan contributed to this report.