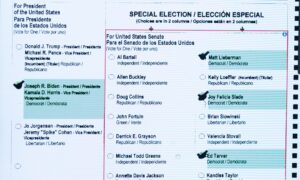 The "adjudication" feature of Dominion Voting Systems, which allows operators of the software to change votes on a ballot, has been cast into the spotlight after an audit of the system in one county revealed a particularly high tabulation error rate, indicating that the system may have been sending large numbers of ballots for adjudication.
Some states allow election officials, under bipartisan supervision, to try to determine who a voter intended to vote for on an incorrectly filled-out ballot, instead of tossing the ballot.
The Dominion software has a function that flags ballots for adjudication based on defects such as improperly filled bubbles on the ballot or overvotes, when a voter votes for more candidates than allowed. The software, however, also allows for all ballots to be sent for adjudication.
In Michigan's Antrim County, the tabulation logs showed an error rate of nearly 70 percent, according to a forensic audit of the machines. The county doesn't use digital adjudication, Dominion said in its response to the audit. But the error rate indicates that the system produced a scenario in which a large number of ballots was open to judgment calls on who the voters intended to vote for.
It appears a similar scenario occurred in other jurisdictions that use the Dominion adjudication tool.
In Fulton County, Georgia, which includes Atlanta, 113,130 absentee ballots were scanned, and more than 106,000 were adjudicated by Nov. 4, said Richard Barron, the county's director of elections, during a Nov. 4 press conference.
The county's spokeswoman, Jessica Corbitt, indicated that Barron was referring to all ballots in batches that were flagged for adjudication, even if just one ballot in the batch was actually adjudicated. Each batch includes several dozen ballots. Corbitt didn't respond to an inquiry about how many individual ballots were adjudicated in the county.
The numbers do indicate, however, that virtually all ballot batches in the county were flagged for adjudication.
Georgia's Gwinnett County reported on Nov. 3 that "the [adjudication] review panels completed a total of 5,900 batches of ballots," indicating that all or virtually all batches went to adjudication.
The county didn't respond to emailed questions.
Another question is what happens next with adjudicated ballots. It appears that when the scanner fails to read a ballot for some reason, the ballot needs to be duplicated through a vote-marking machine—the voter's choices are entered by an election worker on a touch screen and the machine then prints out a replacement ballot.
Videos from the absentee ballot counting center at the State Farm Arena in Atlanta show several people operating a machine that is apparently printing out replacement ballots. There appears to be nobody observing the process. Corbitt didn't provide a comment on those videos.
Dominion's chief executive, John Poulos, told the Michigan Senate that counties that don't use its adjudication software tool do so "manually by creating new ballots when needed."
"With digital adjudication, the original ballot is never changed, and a full audit trail shows the original image, shows who the bi-partisan adjudicators were and what they agreed on, and ultimately captures any changes they made per State law," he said in his Dec. 15 written statement (pdf).
At least one election security expert has alleged that the audit logs on Dominion systems can be overwritten.