Sen. Jon Ossoff (D-Ga.) does not want the Major League Baseball (MLB) All Star Game moved from Georgia, breaking with President Joe Biden.
"I absolutely oppose and reject any notion of boycotting Georgia. Georgia welcomes business, investment, jobs, opportunity, and events," Ossoff said in an emailed statement to The Epoch Times on Friday.
"In fact, economic growth is driving much of the political progress we have seen here. Georgia welcomes the world's business. Corporations disgusted like we are with the disgraceful Voter Suppression bill should stop any financial support to Georgia's Republican Party, which is abusing its power to make it harder for Americans to vote," he added.
An inquiry sent to Georgia's other U.S. senator, Sen. Raphael Warnock (D-Ga.), wasn't returned.
Biden on Wednesday said he'd support the MLB moving the game from Atlanta in response to the new election reform bill that the state legislature passed and Gov. Brian Kemp signed into law.
"I would strongly support them doing that," he said.
Biden mischaracterized some provisions of this law, which critics argue is aimed at suppressing votes while backers say it bolsters election integrity.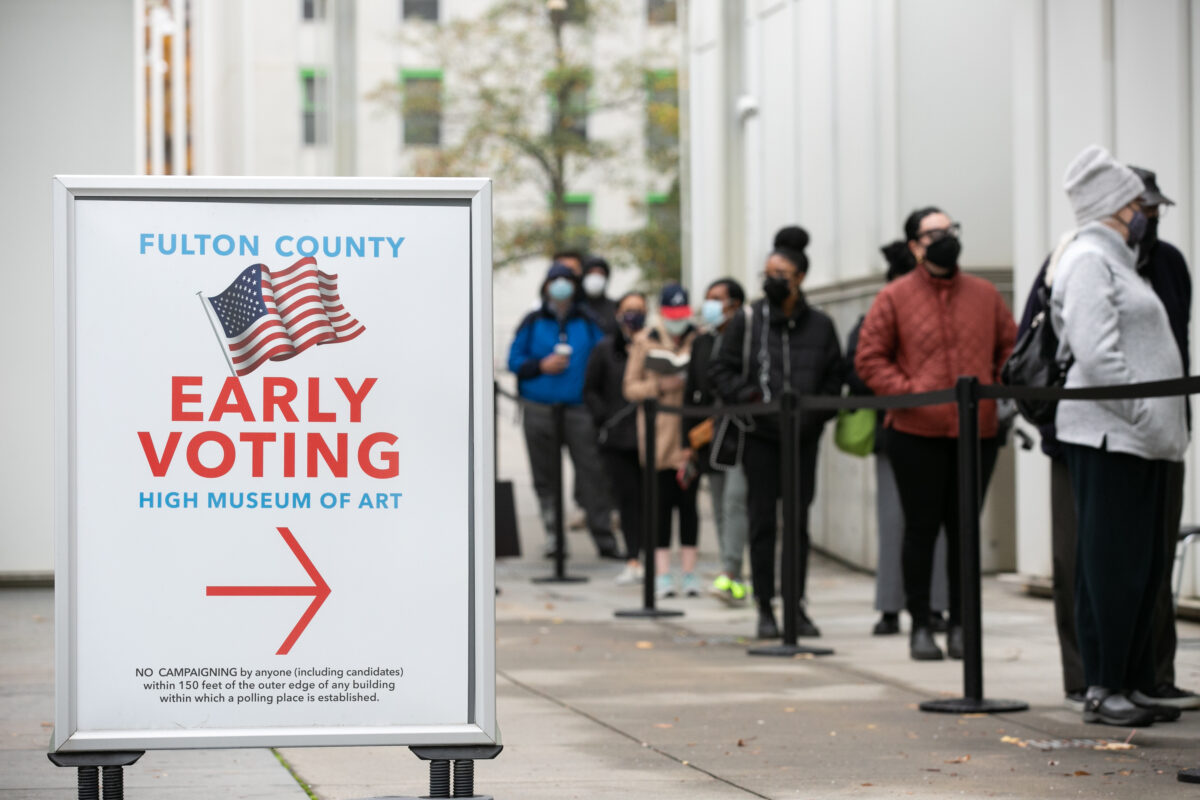 "We have concerns about the specific components of the package, including the fact that it makes it harder and more difficult for people to vote by limiting absentee options; by making it not viable, not possible for people to provide water to people who are in line; by not standardizing longer hours," White House press secretary Jen Psaki told reporters in Washington on Thursday.
Kemp, a Republican, said on Fox News that Biden should compare the law to those in his home state. For instance, Delaware does not allow "no-excuse" absentee voting—meaning any voter can request a mail ballot without providing an excuse—while Georgia does.
"When the president of the United States says something, you know a lot of people pay attention. But what Joe Biden needs to do is look at the side-by-side of Georgia and Delaware," Kemp said. "He's focused on trying to get Major League Baseball to pull the game out of Georgia, which is ridiculous."
A number of U.S. representatives have also challenged claims being put forth about the law. Rep. Drew Ferguson (R-Ga.) wrote a letter (pdf) to Delta Airlines CEO Ed Bastian this week, pushing back on Bastian's memo that made a number of allegations about the law that he said "does not match Delta's values."
"In your internal memo and throughout the entirety of your interview, it became increasingly clear you have been misinformed—or are simply uninformed—about what the bill actually accomplishes. To be clear, the Georgia bill will not make it harder to gain access to the polls, despite your claims to the contrary," Ferguson wrote.