Top health officials told reporters at a Tuesday briefing on the Trump administration's Operation Warp Speed initiative that a COVID-19 vaccine will be distributed to all of the nation's 64 public health jurisdictions within 24 hours of approval by the Food and Drug Administration (FDA).
Health and Human Services Secretary Alex Azar said at the briefing that officials expect to be able to begin vaccinating nursing home residents, one of the top priority groups for receiving the vaccine, within two days of FDA approval.
"To ensure all of this can happen on such incredibly tight timeframes, OWS and our partners have been running not only tabletop exercises, but actual field exercises for the shipment procedures," Azar said. To ensure smooth operation of distribution channels, officials will begin making test shipments that don't contain the actual product to states this week, he added.
Azar also said two new COVID-19 treatments—Eli Lilly's monoclonal antibody treatment and the Regeneron antibody cocktail—have begun to be shipped nationwide.
"We have an end in sight," Azar said of the pandemic, adding, "the American people can be confident that hope and help are on the way."
Pfizer and partner BioNTech last Friday applied to the FDA for emergency use authorization of their experimental CCP virus vaccine, reported to have an efficacy rate of 95 percent and no serious safety concerns. Moderna is expected to be the next company to file a petition of an emergency use nod from the FDA, with its experimental vaccine reported to be 94.5 percent effective, with final results and safety data expected in the coming days or weeks.
Both the Pfizer/BioNTech and Moderna vaccines work using a new technology to trigger an immune response known as synthetic messenger RNA that can be produced at scale much more quickly than traditional vaccines.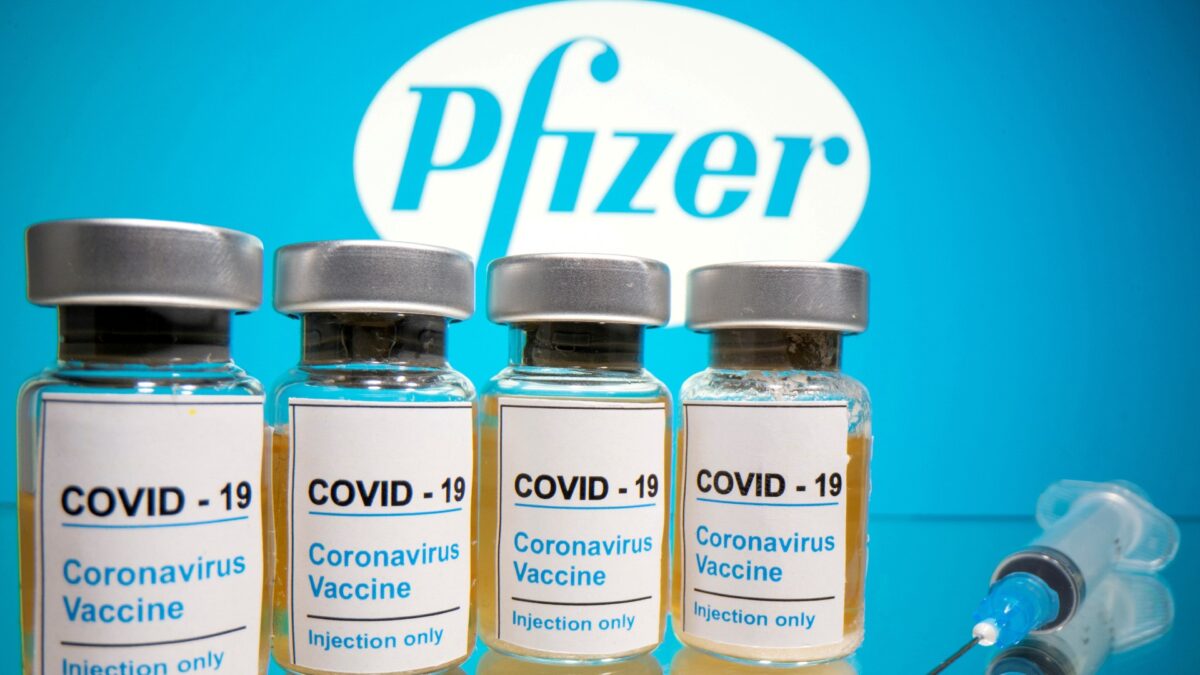 AstraZeneca, which is working with the University of Oxford on its vaccine candidate, announced on Monday that a preliminary analysis showed its product had an average efficacy rate of 70 percent, with the findings somewhat perplexing as two full doses administered at least one month apart showing a 62 percent efficacy rate, which jumped to 90 percent when the first dose was mistakenly cut in half.
Mene Pangalos, head of AstraZeneca's non-oncology research and development, told Reuters that researchers stumbled on the difference in efficacy when trial volunteers under one vaccine regimen reported milder than expected side effects, like fatigue and headaches.
"So we went back and checked … and we found out that they had underpredicted the dose of the vaccine by half," he said. "That, in essence, is how we stumbled upon doing half dose-full dose (group)," he said, adding, "Yes, it was a mistake."
While researchers are unable to explain why administering a lower initial dose increased the vaccine efficacy, they are encouraged by the implication that more people can be vaccinated with a given supply.
"Excitingly, we've found that one of our dosing regimens may be around 90 percent effective and if this dosing regime is used, more people could be vaccinated with planned vaccine supply," said Andrew Pollard, chief investigator of the Oxford Vaccine Trial, which involved over 23,000 participants in Brazil and the UK, expected to increase to 60,000 as the clinical trial expands to more countries.
"More data will continue to accumulate and additional analysis will be conducted, refining the efficacy reading and establishing the duration of protection," the company said in a statement, noting that an independent Data Safety Monitoring Board found no serious safety issues with its vaccine, called AZD1222. The vaccine was developed using a different technology than Pfizer's and Moderna's, built using an adenovirus, which typically causes colds in chimpanzees.
Operation Warp Speed chief scientific adviser Dr. Moncef Slaoui, during the HHS briefing, called the data coming from AstraZeneca's trial "very interesting and encouraging," and noted that the results from the recent COVID-19 vaccine trials more generally shows that "this virus can be very, very strongly protected against."
Sloui said he hoped Americans would keep "an open mind in terms of accepting to be vaccinated."