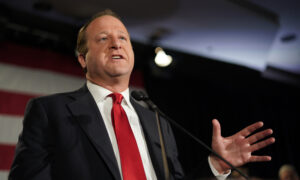 Colorado Gov. Jared Polis (D) on Saturday tested positive for the Chinese Communist Party (CCP) virus, commonly known as the novel coronavirus, according to a statement for the governor's office.
Polis wrote on Twitter that he was asymptomatic, feeling well, and that he will isolate at home. The governor's spouse, Marlon Reis, also tested positive.
"Marlon and I are feeling well so far, and are in good spirits. No person or family is immune to this virus. I urge every Coloradan to practice caution, limit public interactions, wear a mask in public, stay six feet from others, and wash your hands regularly," Polis said.
The governor will be closely monitored while conducting his duties remotely, that statement said.
Polis extended a statewide mask mandate for 30 days on Nov. 9.
On average, 217 new patients were hospitalized with the CCP virus in the Centennial State every day over the past week, according to state data. Since the outbreak began, 2,521 people in Colorado died of COVID-19.
Polis is among a number of people in U.S. politics who recently tested positive for the CCP virus.
Donald Trump Jr., the son of President Donald Trump, tested positive for COVID-19 this week, although he is experiencing no symptoms, according to his spokesman.
Florida Senator Rick Scott (R), 67, had been quarantining after being exposed to the virus before he announced that he had tested positive after several negative tests.
Andrew Giuliani, a White House aide and the son of the president's personal lawyer Rudy Giuliani, said he tested positive for COVID-19 on Nov. 20.
Sen. Chuck Grassley (R), chairman of the chamber's Finance Committee, said on Nov. 17 he had tested positive for the virus.
Corey Lewandowski, one of President Donald Trump's most trusted advisers, tested positive for the coronavirus, a source familiar with the matter said on Nov. 12, according to Reuters.
And Housing Secretary Ben Carson, a 69-year-old retired neurosurgeon, tested positive for the coronavirus, officials said Nov. 9.
Reuters contributed to this report.