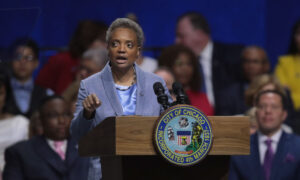 Chicago mayor Lori Lightfoot said Wednesday that she just learned of a police raid that occurred in her city nearly two years ago during which city officers allegedly stormed the wrong home and handcuffed an innocent woman while she was naked with male officers watching.
"I watched that video in absolute horror," the mayor said at a press conference, according to the Chicago Sun Times.
The Law Department of the city this week tried to block a local TV station from airing a video of the raid, which took place in February 2019.
Lightfoot apologized to the victim of the botched raid and called the incident "appalling." She also criticized her legal team for not telling her about the incident.
"I made it very clear to the corporation counsel that I will not be blindsided by issues like this," Lightfoot said at the press conference.

According to Chicago's WBBM-TV, the woman who's house was raided, Anjanette Young, acquired the police video as part of a lawsuit against the police department. Both Young and WBBM-TV had previously been denied by the department access to the video via a Freedom of Information Act request.
After receiving the video, Young talked about her ordeal to the local network, which aired parts of the video.
The city's Law Department filed an emergency notion in federal court only hours in advance, intended to stop the WBBM's airing of the video.
"I feel they didn't want us to have this video because they knew how bad it was, they knew they had done something wrong," Young told WBBM. "They knew that the way they treated me was not right."
Lightfoot was not happy, according to the Chicago Sun Times.
"Filing a motion against a media outlet to prevent something from being published is something that should rarely, if ever, happen," Lightfoot said. "And had I been advised that this was in the works, I would have stopped it in its tracks. This is not how we operate. Period."