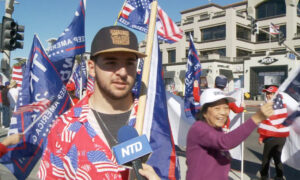 HUNTINGTON BEACH, Calif.—Nickolas Mourani said the media's declaration of a president-elect right now have no constitutional basis, and when the process is played out he believes President Donald Trump will have won.
"I believe Trump won the election and I also think the media right is trying to sell Biden, that he won, even though that's not true at all, there's still a Constitutional process it needs to go through," he said at a Stop the Steal rally in Huntington Beach, California, on Nov. 28, 2020. Thousands have been protesting against election fraud every Saturday since Election Day.
"And the mainstream media is failing to cover voter fraud," he added. This election was the first where mass mail-in ballots were used, and there was no coverage of how it went. The vote counts were notoriously suspicious, with big spikes of votes for candidate Joe Biden all at once, he added, yet it's been dismissed. And all this was before hundreds of sworn affidavits from witnesses of voter fraud came out. "But the media keeps saying, voter fraud doesn't exist, it doesn't exist."
Mourani said he's been going to Trump rallies every weekend for the last month, and in that time he's gained hundreds of social media followers—until about a month ago when he faced censorship, including having his Instagram account banned for a few weeks. "The censorship is trying to make us give up, and I'm not giving up," he said.
"I think it's important, especially for my young generation," he said, "to stand up for what you believe in, because our professors, our teachers in high school, started to indoctrinate us to favor the left."
"It's important that we develop our own opinion and do our own research," he said. "Know the facts and know what you stand up for."