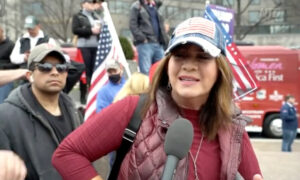 WASHINGTON—Sheryl Taylor from California joined thousands gathered on the other side of the country at the nation's capital, in marches and rallies petitioning the government for fair elections on Dec. 12. These have been grassroots demonstrations that spread quickly across the nation, beginning the weekend after Election Day. These participants are what many have named the "silent majority," but Taylor says they've had enough.
"I think conservatives by nature are the ones who tolerate and tolerate, and don't really say a lot, because we want to give leeway to everybody," she said.
"But I think enough is enough, and people are just up to here," she said. "I mean, absolutely, who doesn't see that there are lies? Who doesn't see that there's corruption?" She's appalled by the Biden family and the scandals that have been uncovered, but Taylor didn't make the trip to Washington to protest Biden, she was there to show support for President Donald Trump and his efforts to fight for America.
"We're here for the president, we're here for the country," she said.
This video is part of our special series 'What Voters Say.' To watch more videos click here.